Littoral
Written and directed by Wajdi Mouawad
Performed by Au Carré de l'Hypoténuse and Abé Carré Cé Carré
19 June at 14: 30 and 20 June at 14:00
Shizuoka Arts Theatre
Duration: 160 minutes
A widely popular director from Lebanon!
exposition
The playwright that won the hearts of Canada's youth!
2000 enthused spectators at the Avignon Theatre Festival!
Born in Lebanon, grown up in France, Director and Playwright Wajdi Mouawad today is a favourite of Canada's youth. At the Theatre Festival in Avignon 2009, the 2000 spectators filling the rows of the Curia were enthused by Mouawad's masterpiece in four parts, Promise of Blood. Littoral, which will be played in Shizuoka, is the first of this series. The poetic text and the heart shaking drama are a unique fusion and will be loved not only by theatre enthusiasts but also by beginners. This great playwright is finally to be seen in Japan!
Endorsed by: Conseil des arts et des lettres du Québec, Culture France, Air France
Sponsored by: Institut franco-japonais de Tokyo, French Embassy, Québec International, Embassy of Canada, Embassy of Lebanon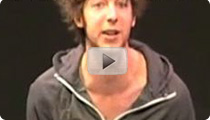 Wajdi Mouawad

Born in Lebanon in 1968, Wajdi Mouawad fled the war-torn country with his family when he was 8 years old; they lived in Paris for a few years, and settled in Montreal in 1983. In 1991, shortly after graduating from the National Theatre School of Canada, he embarked on a quadruple career as an actor, writer, director and producer. In all his work, from his own plays (over a dozen to date, including Wedding Day at the Cro-Magnons', Littoral, Rêves, Incendies) and adaptations (including Céline's Journey to the End of the Night and Cervantes' Don Quixote) to the productions he has directed at different major theatres (including Macbeth, Trainspotting, and more), Wajdi Mouawad expresses the conviction that "art bears witness to human existence through the prism of beauty."
From 2000 to 2004 he was the artistic director of Montreal's Théâtre de Quat'Sous. In 2005, he founded two companies: Abé Carré Cé Carré in Montreal (in collaboration with Emmanuel Schwartz), and Au Carré de l'Hypoténuse in Paris. He has also directed a feature-length film, Littoral, based on his play of the same name, and written a novel, "Visage retrouvé". Since September 2007, Wajdi Mouawad is the Artistic Director of The National Arts Centre (NAC) French Theatre in Ottawa. In 2009, he was also associate artist at the Avignon Festival.