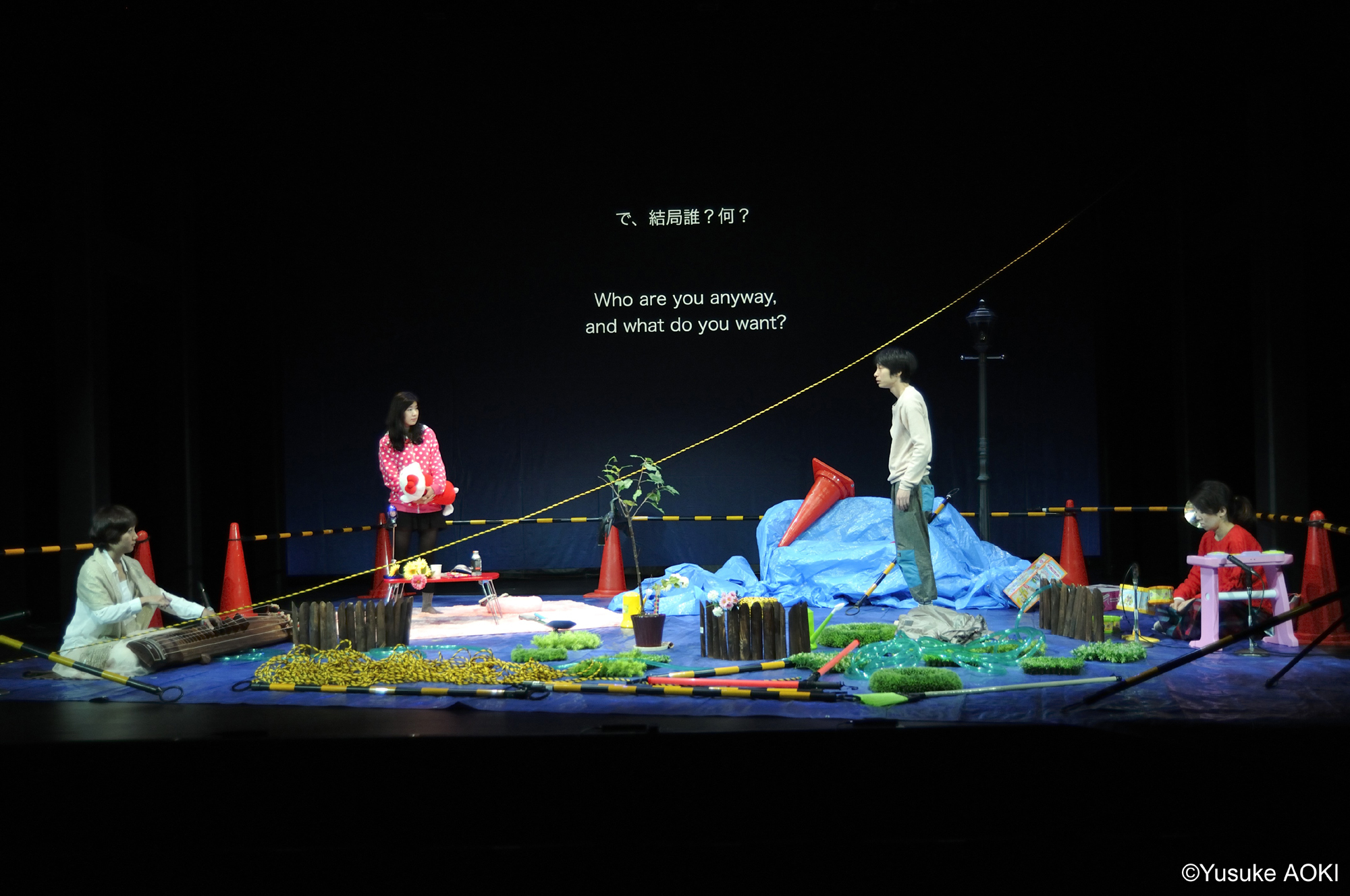 <Director's Profile>
Shigeki NAKANO
Born in Tokyo in 1973. Director. Supervisor of Shigeki NAKANO + Frankens. Professor at ARIAKE College of Education and the Arts.
Recent projects: Performance of ZooZoo Scene (2008, 2009), a remake of Edward ALBEE's The Zoo Story, at a real zoo including zoo entrance / A rap tune rendition of CHEKHOV's The Seagull, CD release and live performance / Stage performance of Chotancho (2010) / Theatrical projects at child welfare homes and a rendition of the projects documentary on stage (Tokyo) / Performance in Melbourne of Powerhouse (2012) / A two year span performance of The Seagull on Twitter Tsubuyakukamo, me (2012 on) / Short and mid-length national road show performances NakaFra Theater Exhibitions (2012-2013) / etc.

http://frankens.net/
 


"Shigeki NAKANO + Frankens" have been gaining attention in the Tokyo theater scene.
This collaboration by the Korean theater creators and musicians is opening up new territory.

This piece has taken three years in preparation for its performance in the Asian Performing Arts Festival, and has gained tremendous attention for its performance during the event where young artists from cities all over Asia come to collaborate. The theme is about, well, "waiting". These directors who excel at interpreting foreign pieces gained insight from Waiting for Godot and have rewritten their own script. Will the confusing conversation between man and woman lead to the outcome they have been waiting for? The easily enjoyable world of this play is surprisingly deep. It is new grounds for Shigeki NAKANO and his collaboration with the Korean actress and musician!
There really ought to be nothing that we must wait for, yet we still wait for something…
For a generation that cannot get along, we offer a new "love" that surpasses both language and border.

Since when has "misunderstanding" been so humorous? "I want to have fun dealing with language barriers", says Shigeki NAKANO, when explaining his starting point for this piece. One notices right away, that "the barrier is not only language". Sex, age, generation, and basically just the inability to accept things physiologically. No matter what, a barrier exists. In which case, why not make it something tangible on purpose? That is the process that led to this humorous play. Modern people who suffer from the nuisance of everyday communication will be sure to yell with delight from the bottom of their heart at the "mutual understanding" that presents itself after finally getting over the irritation.


Theatre/JAPAN, KOREA
■15 June at 13:30 ■16 June at 12:00 / 16:00
Duration: 50 minutes (expected time)
In Japanese, Korean and English with Japanese, Korean and English subtitles
■BOX Theatre, Shizuoka Performing Arts Park


Written and directed by NAKANO Shigeki
Inspired by Samuel BECKETT
Performed by
CHOI Na Ra (Seoul Metropolitan Theatre)
MURAKAMI Soichi (Shigeki NAKANO + Frankens)
ISHIBASHI Shiho (Shigeki NAKANO + Frankens)
KIM Seon Hyo (Geomungo, Seoul Metropolitan Traditional Music Orchestra)
World premiere: Asian Performing Arts Festival 2011
Special Thanks to Sejong Center for the Performing Arts


A man and woman meet. But they do not share the same language. The man simply wishes to charge his cellular phone, but the woman, who is only able to make out one word, mistakes him for a musical actor from Italy and lets him into her room. Two years pass by. The phone has not finished charging. The woman who is now aware that the man is not an actor and that he will not bring her away to Venice continues to live with him. The man's wife comes along one day, and this time, though the two speak in the same language, are unable to understand each other.