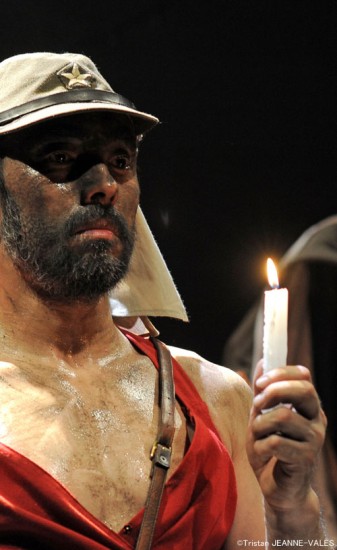 Jean LAMBERT-WILD
A director and playwright. In 1972, he was born in Réunion island (French island located in the Indian Ocean, east of Madagascar) where different cultures from Africa, Asia and Europe mix. Its unique cultural climates enhanced his poetic imaginative sense. He receives appreciation for his magical manner of direction based on rich of theatrical knowledge. That led him to his current position as a general artistic director of Comédie de Caen – Centre Dramatique National de Normandie since 2007.
MISHIMA Keita 
After his activity at ACM (Acting Company Mito) of Art Tower Mito, in Ibaraki Japan, he has been working at SPAC since its foundation. He has collaborated with various directors such as SUZUKI Tadashi, MIYAGI Satoshi, IMAI Tomohiko, ONODERA Syuji, HARADA Kazuki, LEE Youn-taek, Omar PORRAS etc., performing at more than 70 cities in Japan and abroad. His representative works are, for example, "Robinson and Crusoe", "EI Don Juan", "Don Quixote" etc.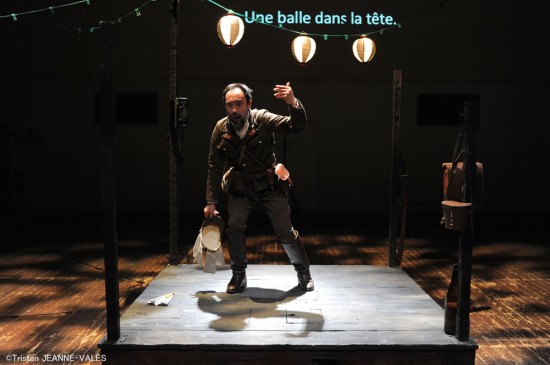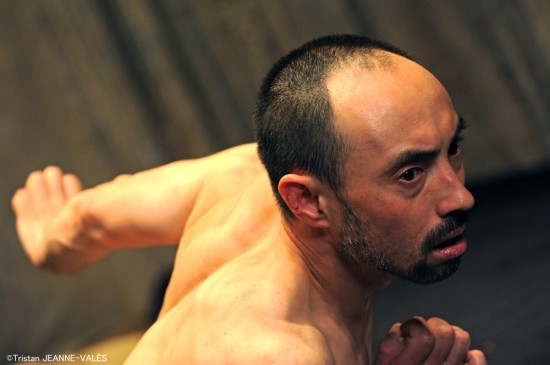 Jean LAMBERT-WILD
Fell in love at first sight with actor
MISHIMA Keita
Giving birth to the dream collaboration!
Captain Iwatani Izumi has lost everything but his self respect. This rare kind of main character is said to be modeled after Director Jean LAMBERT-WILD's real uncle who was an army man. His hopes for working with a Japanese actor on this play came true when he had his fateful encounter with SPAC's actor MISHIMA Keita. This is the birth place of our attractive, proud and physically tenacious yet mentally sensitive "hero".
That's why life is so wonderful!
Benevolence is born from mud and sweat.
Let's witness the fire of life.
As a poet, Jean tries to save the souls sacrificed to war while portraying the unyielding psyche of a Japanese soldier. For Jean, who says "people must write their own story", this piece is represents his very own. He is proud of his country, reminisces of his family and stitches up his beautiful uniform. Is this the crossfire of a battle field? Or is it all one big nostalgic delusion. What is this captain, who refuses to lose his dignity in the midst of chaos, and who roars in fear of his impending death, trying to tell us living in the modern day?
Recommendation
They say "The truly high quality subtitles were so good no one even noticed", but a deep elegance of the same caliber is perhaps just as crucial as the beautiful play translation. Furthermore, the anxiety I carried as a translator towards this piece was of a whole different dimension. It was "what if they felt the lines themselves were unnecessary !". this solo performance on top of scaffolding, who had to fight with the fantasy-like poeticism of the play as he ventures through dance, rage, fear, and laughter only to reach his own death, is just that overwhelming. Through this body, we are able to see the story of the life of a man who became a soldier, survived the frontline and was only able to die after becoming an a mere man again.
(HIRANO Akihito / Translator)
Information

26 April at 15:00
28 April at 15:00
29 April at 15:30
◎ Pre-Performance Talk by MIYAGI Satoshi and others 25 min. before the show at the lobby of DAENDO
◎ Post-Performance Talk by Jean LAMBERT-WILD and MIYAGI Satoshi on 28 April

At Ellipse Theatre DAENDO, Shizuoka Performing Arts Park
Duration: 75minutes (expected)
In Japanese with English subtitles
Staff/Cast
a show by Jean LAMBERT-WILD, MISHIMA Keita and HIRANO Akihito
Written and directed by Jean LAMBERT-WILD
Performed by MISHIMA Keita
Translated by HIRANO Akihito
Lighting : Renaud Lagier
Production Manager : Claire Séguin
Sound : Christophe Farion
Assistant : Alycia Karsenty
Stage design : Jean LAMBERT-WILD
Costume Design by Annick Serret-Amirat
Translation, Subtitle operator : HIRANO Akihito
Production:Catherine Lefeuvre
Produced by Comédie de Caen – Centre Dramatique National de Normandie
SPAC staff
Stage manager : MITSU Hisashi
Lighting : KAMIYA Reina
Sound : OTSUKA Shota
Wardrobe : HATA Jenifer Yuki, SEI Chigusa
Stage : NAGANO Masahito
Production : TAKABAYASHI Rie
Technical manager : MURAMATSU Atsushi
Lighting manager : HIGUCHI Masayuki
Sound manager : KATO Hisanao
Under the auspices of : Embassy of France / Institut français du Japon
Supported by Institut Français / Région Basse-Normandie