*For Gisèle VIENNE's profile, please see
the page of "Showroomdummies #3"
.
Jonathan CAPDEVIELLE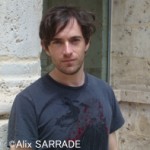 Born in 1976, France. He studied drama from 1993 to 1996, then he entered the Ecole Supérieure Nationale des Arts de la Marionnette. He is one of the most important collaborators of Gisèle Vienne. He has also expertise as a ventriloquist as well as acting and marionette. He presented his original solo work "Adishatz/Adieu" (2011) in Tokyo and Kyoto.
Dennis COOPER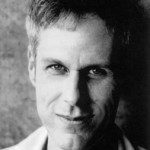 Born in America, 1953. Novelist and poet. He has put out novels, deeply portraying the mentality of people who have been pushed to the edge of society. He is one of the leading novelists in gay and punk culture. From 2004, he collaborates with Gisèle VIENNE and currently is living in Paris. In 2012, he co-curated the collaborative exhibition entitled "TEENAGE HALLUCINATION" in Centre Pompidou (Paris) featuring, amongst other, artistic works elaborated by Vienne and himself.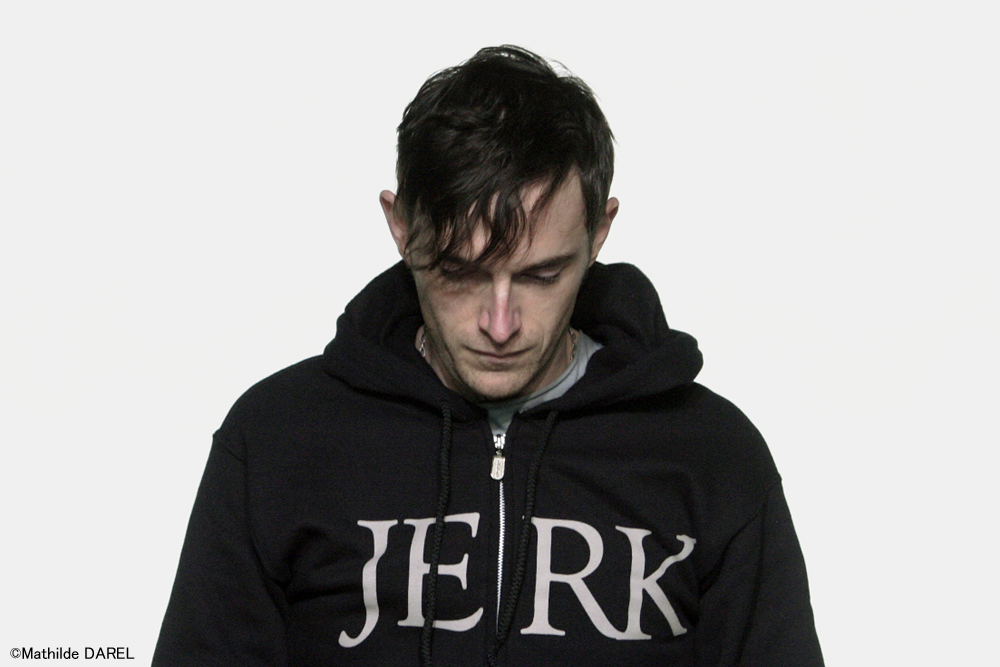 Is this puppetry or live theatre?
This free yet jam-packed performance
Is sure to make you shudder
Gisèle VIENNE, the director of this performance majored in philosophy in university and studied puppeteering. She deals with puppet theatre, dance, performance art, visual art and underground music. Hence her taking to "doll play" as means of self-expression to fuse it all together. She often puts on stage real performers acting with live size dolls to portray the dark side of human beings. For Jerk in 2009, she has produced glove puppets for Jonathan CAPDEVIELLE to use in a brutal act of murder on his lap. The audience will be taken back by his standout skills of ventriloquism, as it blurs boundaries between truth and fiction…
The records of a chilling murder case
Who will bring the mystery to an end?
You will.
Dennis COOPER is a writer who has been towing American gay culture. His texts have a high standing regardless of their sexual and violent descriptions, for they sharply detail of the decay and dark sides of modern society through the lens of a heretic. Gisèle and Dennis' collaborations have been one hit after another since 2004 to the point of becoming a social phenomenon. Will you be able to tolerate a product of your own imagination!?
Synopsis
"Jerk" is an imaginary reconstruction of the crimes perpetrated by American serial killer Dean CORLL who, with the help of teenagers David BROOKS and Wayne HENLEY, killed more than twenty boys in the state of Texas during the mid-70s. This show sees David BROOKS serving his life sentence. He has written a show that reconstructs the murders committed by Dean CORLL, using puppets for all the roles. He performs his show in prison for a class of psychology students from a local university.
Information

3 May at 15:45
4 May at 19:00
◎Special post-performance talk by Gisèle VIENNE and OSAWA Masachi (Sociologist from SPAC Literary Department) on 4 May
At BOX Theatre, Shizuoka Performing Arts Park
Duration: 55 minutes
In English with Japanese subtitles
*For adults only: Due to inappropriate expression, those under 18 years of age are asked to refrain from viewing.
Staff/Cast
From a novel by Dennis COOPER
Directed by Gisèle VIENNE
Performed by and created in collaboration with Jonathan CAPDEVIELLE
Music: Peter REHBERG (original music) and El Mundo Frio of Corrupted
Light : Patrick RIOU
Associate producer: DACM
With the collaboration of the Quartz – Scène nationale de Brest
SPAC staff
Stage manager : KAWAKAMI Daijiro
Lighting : MATSUMURA Ayaka
Sound : AOKI Ryosuke (US)
Stage : HAYASHI Tetsuya, NAKAO Eiji, SATO Kiyoshi
Wardrobe: HATA Jennifer Yuki, SEI Chigusa
Interpretation : YOSHINO Mai
Subtitles (Translation & Operation) : YOSHINO Mai
Production : ARAI Mai, Junichi Yoneyama
Technical manager : MURAMATSU Atsushi
Lighting manager : HIGUCHI Masayuki
Sound manager : KATO Hisanao
Supported by Institut français
Under the auspices of: Embassy of France/Institut français du Japon