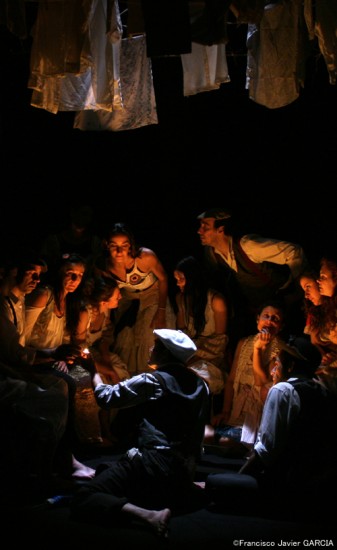 Enrique VARGAS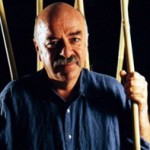 Born in Colombia and studied theatre and anthropology. He dedicated 15 years to research on the traditional games, rituals and myths of the natives in the Colombian Amazonas and to teach at Universidad Nacional de Colombia. In 1993, he left the university and continued his research with foundation of Teatro de los Sentidos as the artistic director. He has developed, over 30 years, a poetical language with enormous influence on contemporary theatre. Currently, in addition to his theatre work, he conducts classes at university.
Teatro de los Sentidos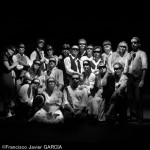 A nationally diverse, stable company, made up of a variety of performers and researchers in many fields of expertise who co-develop the work along with Enrique VARGAS. In a long history of ancestral oral traditions, silence has been regarded as a necessary condition for effective communication in a language that acknowledges the importance on what is left unsaid. Based on such wisdom, the company aims to create their own style of theatre that awakens body memory and makes use of the five senses to create the conditions for a poetic experience for the audience. Which means: a transformation.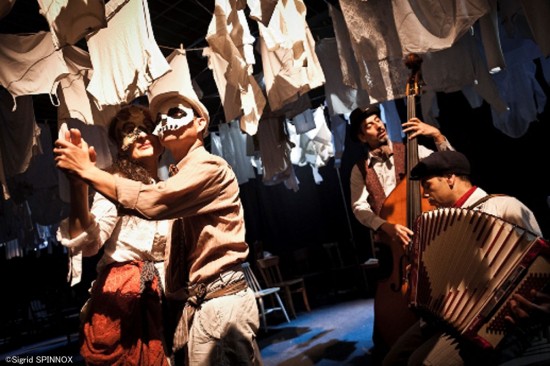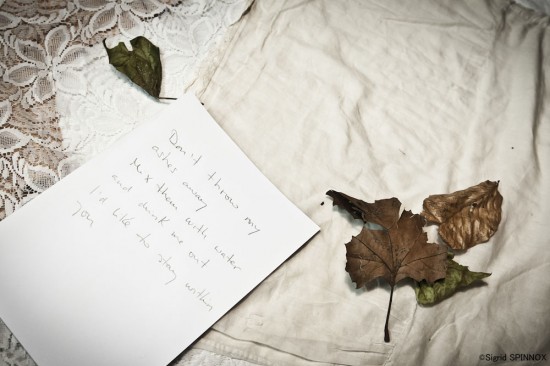 "To live well" or "to die well"
For which do you walk?
New style performance making audience join together!
Theatro de los sentidos comes from Barcelona.
As described in the meaning of its name "Theater of senses", their performance is a neo-sensory experiential performance that calls on all of the human senses and has the audience "feel around" for the fun. At the beginning, you will be faced with a choice. Between "A lesson to live well" and "A lesson to die well". After celebrating life with the dead and death with the living, you will be sure to encounter a slight change in yourself.
I want to be just one
But I am only half
It is the missing part that
Makes me walk the path
Can you call this "theatre"? A sweet voice, the sound of a stream, and a mesmerizing melody. They will suspend our consciousness in the air and reattach it to the missing or straying pieces of ourselves such as memories long forgotten or egos tightly locked away. By gazing at the light with all senses sharpened, we will recall "the first step of life". Where else would you be able to experience the simple act of watching something wandering back and forth between life and death, even if that something were your own shadow? Now that is theatre.
The Question
We hide from ourselves. But those others who we are, fight to find a way through. What shall we do? Push them back or seduce them and play with them?
Questions take as many forms as turns we find along our way. They hide behind the histories we live. It doesn't matter how we disguise them. In the end, they're all a search for meaning.
We are the questions we live.
Some of us spend our lives without daring to express them. Others long for the fanatic's passion, preferring unquestionable answers. Each of us searches for the most appropriate trade to shape his own question.
(Enrique VARGAS)
Information

26 April at 11:00, 13:00, 15:00
27 April at 11:00, 13:00, 15:00
28 April at 15:00, 17:00, 19:00
29 April at 12:00, 14:00 16:00
※This performance requests audience to participate in and "experience" it.
※For adults only: elementary school students and below are asked to refrain from viewing.
※Due to artistic reasons, visitors arriving late will not be allowed into the theatre. We appreciate your understanding.

Duration: 70 minutes
In Japanese and English
At Mokusei Kaikan(3-6-1 Takajo, Aoi-ku, Shizuoka City)
By Foot: Approx. 15 minutes walk from JR Shizuoka Station north exit, and approx. 5 minutes walk north from Shizutetsu Hiyoshi-cho Station.
By Bus: Approx. 10 minutes ride from bus boarding numbers 5 or 6 at JR Shizuoka Station north exit, and approx. 6 minutes ride from bus boarding numbers 3 or 4 at Shizutetsu Shin-Shizuoka Station. Approx. 2 minutes walk after getting off at "Mizuochi-cho Mokusei Kaikan Iriguchi".
※We recommend using public transportation to the venue.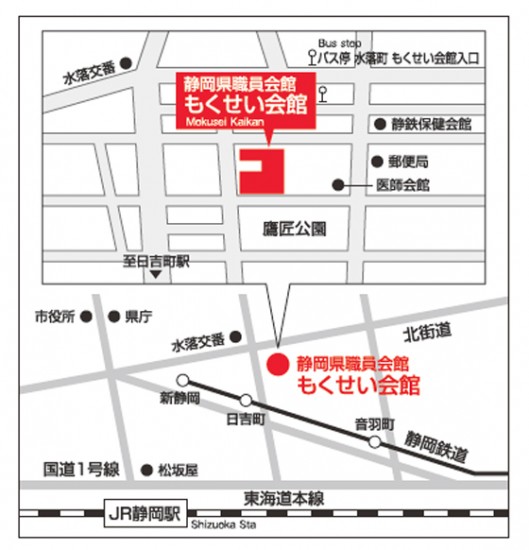 Staff/Cast
Dramaturgy by Enrique VARGAS and Teatro de los Sentidos
Directed by Enrique VARGAS
Performed by Betina BIRKJAER, Francisco Javier GARCIA, Gabriel HERNANDEZ, Stephane LAIDET, Arianna MARANO, Patrizia MENICHELLI, Giovanna PEZZULLO,
Gabriella SALVATERRA, Sebastiano SPINELLA (Actors-Researchers), Local guest
actors in Shizuoka
Produced by Teatro de los Sentidos
Artistic Coordinator: Patrizia MENICHELLI
Actors Coordinator: Arianna MARANO, Giovanna PEZZULLO
Set Design: Gabriella SALVATERRA
Lighting Design: Francisco Javier GARCIA
Smell Design: Giovanna PEZZULLO
Musical Director and Sound Design: Stephane LAIDET
Musicians: Francisco Javier GARCIA, Gabriel HERNANDEZ, Stephane LAIDET ,Sebastiano SPINELLA
Costumes and Masks Design: Patrizia MENICHELLI
Technical Director: Gabriel HERNANDEZ
General Manager: Toni VIDAL
Producer: Carlos CALVO
Project Manager: Claudio PONZANA
Administration and Education: Lidia FIGUERAS
Communications: Clara GASSIOT
SPAC staff
Stage manager : KAWAKAMI Daijiro
Lighting & Sound operator : US
Stage : HAYASHI Tetsuya, NAKAO Eiji, SATO Kiyoshi
Wardrobe : HATA Jennifer Yuki, SEI Chigusa
Interpretation: SHIMOYAMA Asaki
Production : TANIGUCHI Yuko, ARAI Mai
Technical manager: MURAMATSU Atsushi
Lighting manager: HIGUCHI Masayuki
Sound manager: KATO Hisanao
Supported by Embajada de España, Generalitat de Catalunya. Departament de Cultura, Ajuntament de Barcelona, Institut Ramon Llull
Under the auspice of Instituto Cervantes
Cooperation with MITETA Community Development Committee