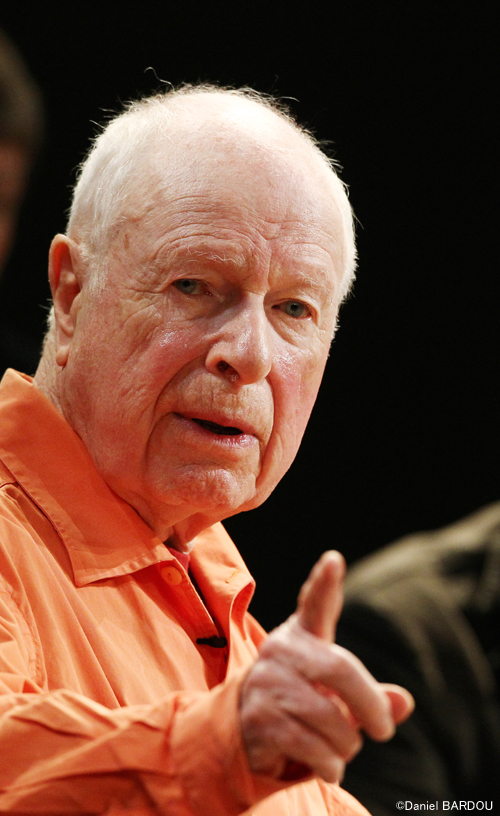 Peter BROOK
He was born in London in 1925. Starting his performances in 1943, he has taken part in directing over 70 pieces, in London, Paris and New York. In 1971, he founded the International Centre for Theatre Research in Paris and in 1974, opened its permanent base in the Bouffes du Nord Theatre, and worked as the artistic director there until 2010.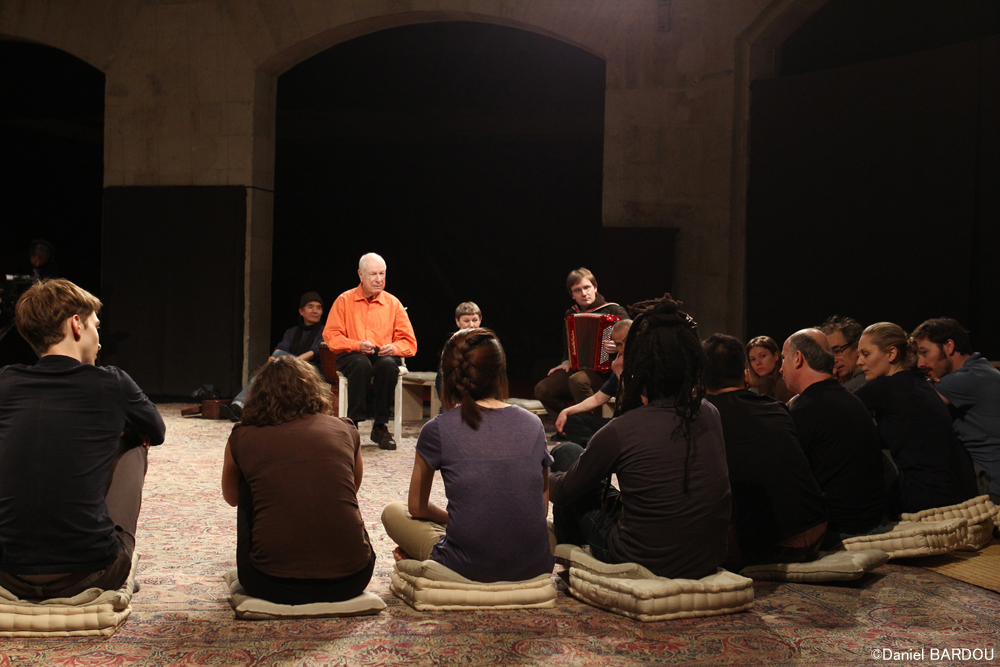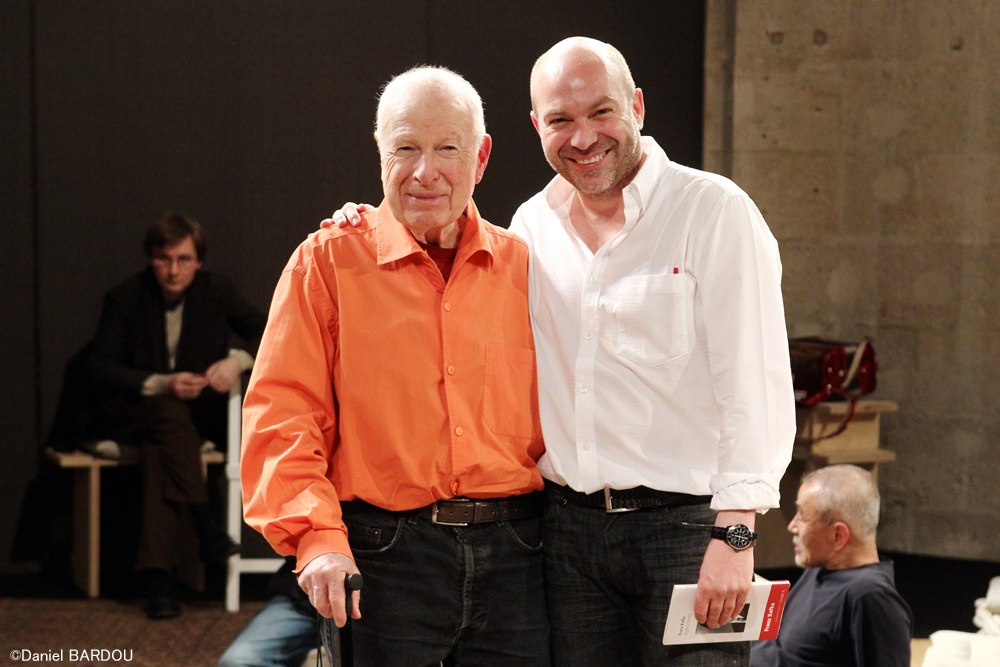 Acting is like walking on a rope
Over a deep dark cavity
The secret of rich stage lies here.
A maestro smiles in front of an imaginary tightrope on the floor. Now walk! You need "pure imagination" integrated with your body in order to cross. Walk from here to there. That's all you have to do. But if you don't put your heart and soul into it, you can't pierce the heart of others… Actors start tightrope walking, approaching it in many ways. Here you can find Peter Brook's philosophy, and his unique approach of acting!
Peter BROOK
The long awaited release of
Legendary footage of "the moment of creating"
Peter BROOK, who turns 89 this year, has been introducing countless productions in various countries with many actors from all over the world. Actor Yoshi OIDA, awarded imperial prize for cultural merit in France, and percussionist Toshi TSUCHITORI, both frequent participants in BROOK's works, also make appearances in this movie. Stimulating scenes unfold in a small practice room. The film director Simon BROOK, Peter's son, succeeded in packing into this documentary the spirit of inquiry into the arts as well as the playful mindset of a theatrical master. It is a can't-miss film for all to see.
Synopsis
A prominent director of contemporary theatre, Peter BROOK has allowed cameras, for the first time in 40 years, to provide a glimpse into his unique rehearsal room. 5 hidden cameras shot from various angles document his exercise to get to the heart of his philosophy. The director puts up an imaginary tightrope diagonally across the room, and has actors walk along it. "Not with your eyes, but rather feel it with your feet…" Actors start tightrope walking maximizing their own imagination while the musicians back them up with their clear sound
Information

29 April at 12:30
◎Post-Performance Talk by Miriam GOLDSCHMIDT and MIYAGI Satoshi
At BOX Theatre, Shizuoka Performing Arts Park
Duration: 86 minutes
In English and French with Japanese subtitles
Filmed in 2012
Staff/Cast
From a concept by Peter BROOK, Simon BROOK
Filmed by Simon BROOK
Participated by
 OIDA Yoshi, Hayley CARMICHAEL, Marcello MAGNI,
 Jos HOUBEN, Abdou OUOLOGUEM, Shantala SHIVALINGAPPA,
 Lydia WILSON, Emily WILSON, Micha LESCOT, Khalifa NATOUR,
 Cesar SARACHU, Toshi TSUCHITORI, Franck KRAWCZYK,
 Marie-H él ène ESTIENNE
Japanese subtitles by KAWAI Shoichiro, KITAMURA Sae
SPAC Staff
Sound : KATO Hisanao, Aoki Ryosuke (US)
Lighting:MATSUMURA Ayaka
Production : OGATA Mayuko
Cooperation from Saitama Arts Foundation 
Under the auspices of:
Embassy of France/Institut français du Japon


Distribution by Pictures dept.
Presented by Dongyu Club & INC
This September, this new film is to be released nationwide