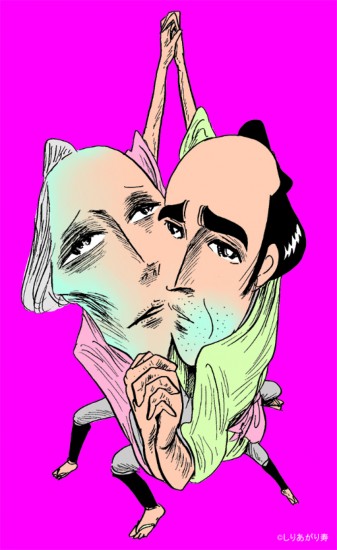 AMANO Tengai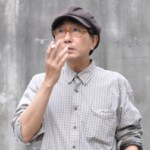 A playwright and director. Born in Aichi Prefecture, in 1960. In 1982, he founded "Shonen-oja-kan" in Nagoya. Besides drama, he has also produced dance, puppet shows, concerts, and fashion shows, and he has been involved in various kinds of stage arts at not only his own company but also others for a long time.
SHIRIAGARI Kotobuki
Born in 1958 at Shizuoka City. After graduating Tama Art University Department of Graphic Design major in 1981, joined Kirin Brewery Company, Ltd. and worked on packaging design and advertisements. In 1985, debut as a cartoonist with book, "Ereki na Haru" Receives attention as a new type of gag cartoonist using parody mainly. After becoming independent in 1994, starts continuously releasing works that are fantastical or literary. While continuing original works as a cartoonist, recently has been working on essay, video, game, art, and is extending range of creativity in many fields. In 2001, wins the Award for Excellence for comic art performance in 5th Annual Osamu Tezuka Culture Award with book "Yajikita in DEEP"(Enterbrain Inc.)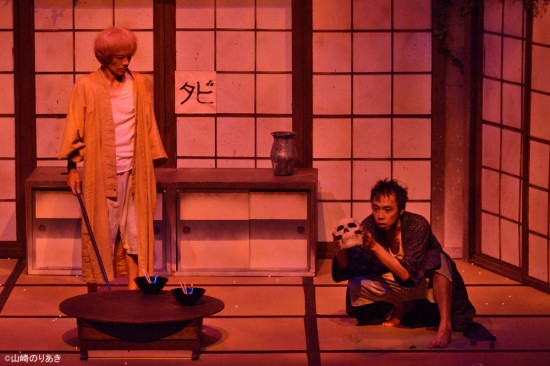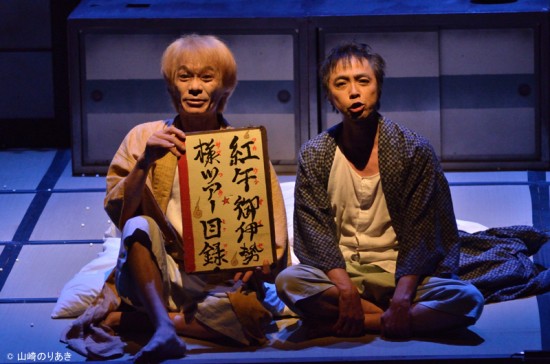 Turning nightmare into pleasant treat
The "magician AMANO Tengai"
Has now arrived in Sumpu!
The "magician" AMANO Tengai, famous for his 2008 masterpiece "HEITSRO BAKEMONO NIKKI", will return to SPAC. This time, he has taken the award winning Manga of SHIRIAGARI Kotobuki, a famous manga artist native of Shizuoka, and has turned it into a stage piece. It has been performed all over Asia becoming the subject of conversation as "a pinnacle in small theatre". It is humorous and absurd. Pay attention as to how AMANO's magic takes the "real" from in front of your eyes, destroys it within in seconds and then brings it right back.
Inside a long dream
That everyone falls into at some point
Who can you fall with?
The characters and satirical essence created by JIPPENSHA Ikku, born in Sumpu-Ryogaecho (downtown of Shizuoka nowadays) in 18th century. He has been grasped by manga artist SHIRIAGARI Kotobuki and unleashed into modern society in his own specific way. Dramatically ripped apart by the hands of AMANO, the story is strategically and carefully put back together as a small play standing massive thanks to the diligent staff work. The audience as a whole will wander back and forth between life and death in this space of zero gravity. Where does "real" lie to you?
Synopsis
"Edo is all fake!" A loving couple Yaji and Kita leave paper-thin Edo city to on a pilgrimage to Ise and find themselves stuck at an inn somewhere along the way due to pouring rain. Not knowing when the rain will ease they wander off into visions in their own mind and even end up lost in the land of the dead. As they try to escape this shared nightmare the boundaries between dream and reality, the present and the past, where they've been as to where they're going, become blurred. What are they traveling for? Where in the world are they headed?
Information

29 April at 18:00
◎Pre-Performance Talk and Post-Performance Talk with AMANO Tengai, SHIRIAGARI Kotobuki and MIYAGI Satoshi.
At Shizuoka Arts Theatre
Duration: 100 minutes
In Japanese
Staff/Cast
Written and directed by AMANO Tengai
Based on "YAJI and KITA" by SHIRIAGARI Kotobuki
Performed by OGUMA Hideji, JITSUNASHI Satoru
Produced by KUDAN Project
Stage design: TAOKA Kazuto
Stage creation: KOMORI Yumika, YAMANAKA Shuichi
Lighting: OGISO Chikura
Sound: IWANO Naoto
Movie: HAMAJIMA Masahiro
Properties: NIWA Junko, NAKAMURA Emiko
Costume: TAMURA Eiko
Music: TAMAMI
Choreography: YUCHIN
Stage Manager: IMURA Ko
Production: YAMAZAKI Noriaki, YAMAMOTO Mugiko, OGUMA Hideji
SPAC Staff
Stage manager : MURAMATSU Atsushi
Lighting:HIGUCHI Masayuki
Sound : KATO Hisanao, Aoki Ryosuke (US)
Wardrobe : KOMAI Yumiko
Stage : SAKATA Yukari, HURUYA Kazumi, HIROSAKI Nagiko
Production : NAKAMURA Yuki, TANJI Haru