Shizuoka Performing Arts Center (SPAC) was founded in 1995 by Shizuoka Prefecture, Japan. SPAC is the first publicly founded cultural organization in Japan to have residential actors as well as a technical and administrative staff that manages its own theatre venues and facilities for artistic purposes. As a creative base of the performing arts, it generates programs of creation, presentation, education and also programs of exchange / collaboration with artists and institutions of Japan and abroad. SUZUKI Tadashi was the first General Artistic Director of SPAC since 1997 through to March, 2007. In April, 2007, MIYAGI Satoshi was appointed as the General Artistic Director and SPAC started its new phase under his direction. SPAC puts its efforts into various kinds of activities such as creating a variety of theatre pieces, organizing "World Theatre Festival Shizuoka", inviting students to the theatre, developing theatrical human resources, touring abroad, enhancing outreaching program and many more.
SPAC can present some remarkable points.
1. Persons
SPAC is a company with professional persons to create performing arts.
・General Artistic Director: the symbol of SPAC, who leads the organization and authorizes the overall policy.
・Professionals: residential actors, technical staff, directors, production staff who engages with creation.
2. Facilities
SPAC can utilize own facilities such as; "Studio" where actors formulate their disciplined physical bodies for creating original performing arts, and "Venue" to represent their outputs. Venues have high standard structures and expertise, which are facilities specialized in performing arts for only SPAC's use, not for rent. In Japan, SPAC is the first model case realizing European theatre system as "A theatre with software". SPAC has been accepting a lot of attentions in this context, as well as from the viewpoint of cultural policy by a local government.
3. Pieces
SPAC original pieces are highly evaluated both domestically and internationally, continuing presentation in more than eleven countries such as United States, Greek, Russia, France, and Italy. Its repertoires are treasures of SPAC, achieved by own-based staff and actors.
4. Theatre, for communication and connection
Theatre is a window to the world. Not only creation activities, SPAC also holds international performing arts festivals and programs for human resources development to nurture future artists. The energy emitted by a human body on the stage is a once-in-a-lifetime one. SPAC provides opportunities to feel such energy, to inspire creativity and imagination of both performers and audiences. Where both of them can meet each other is "a theatre".
Chairman of Board of Directors: Sumiko Suzuki
General Artistic Director: Satoshi Miyagi
Contact: 2-3-1 Higashishizuoka Suruga-ku Shizuoka-shi 422-8019
Tel. +81-54-203-5730 Fax +81-54-203-5732
MIYAGI Satoshi / General Artistic Director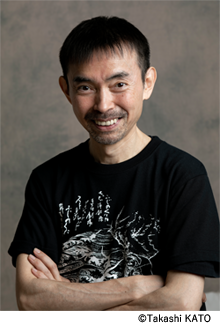 Born in 1959 in Tokyo. He is the General Artistic Director of the Shizuoka Performing Arts Center (SPAC). He studied the theory of drama from Yushi ODASHIMA, Moriaki WATANABE, and Hachiro HITAKA at Tokyo University, and founded Ku Na'uka Theatre Company in 1990. He is engaged in various international performance activities, and is praised for his direction fusing the contemporary interpretation of text and the physical techniques and stylization of Asian plays. He was appointed as the General Artistic Director of the SPAC in April of 2007. He not only performs his original work but also invites various works that sharply depict the modern society from around the world, and is working to create a theater as a "window to look out toward the world." After the success of "Mahabharata" which received an invitation to and was performed at Festival d'Avignon in July 2014, he performed "Antigone" in 2017 as the opening act of the Festival at the Cour d'honneur du Palais des papes. It was the first time in the Festival's history that an Asian play was selected as the opening act, and the world depicted by the work caused a great reaction. His other representative works include "Medea" and "Peer Gynt." He received the Grand Prix of the 3rd Asahi Performing Arts Awards (2004), the 2nd Asahi Beer Art Prize (2005), and the 68th Minister of Education, Culture, Sports, Science and Technology's Art Encouragement Prize of Drama (2018).