(H)arlequin / Tengu
Written and performed by Didier Galas
Cowritten, translated and subtitles by Yasusuke Oura
20 June at 11:00 and 19:00
Ellipse Theatre DAENDO, Shizuoka Performing Arts Park
Duration: 60 minutes
Commedia del Arte vs. Japanese Tengu?
exposition
Was the favourite of the Commedia del Arte a demon?
A Tengu possessed by a French – an astonishing performance!
One of the main characters of the Italian Commedia Del Arte, Harlequin, is known to us today as acrobat and clown, but originally he figured as a demon. On the search for the original figure of Harlequin, Didier Galas started the project "Babel Harlequin". He acted all different kinds of demons appearing in different regions of the world and let them meet with Harlequin. Didier Galas is French, but a master of the Commedia del Arte.
In order to play a Tengu (a Japanese Demon) he lived in Japan and studied Noh-Theatre. Listening to this French man's Japanese, the performance crosses over the borders of language and body becomes real thrill. The tower of Babylon on the eve of its fall! Galas' performance is highly seductive.
Endorsed by: Culture France, Air France
Sponsored by: Institut franco-japonais de Tokyo, French Embassy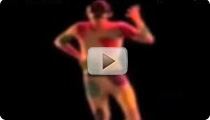 Didier Galas

Actor, writer, teacher and stage director. After his studies at the Conservatoire National Superieur d'Art Dramatique de Paris under Claude Régy, Bernard Dort and Mario Gonzales, he worked with Ludovic Lagarde, Jacques Rivette, and other. In collaboration with Christian Schiaretti he was nominated at the Moliere's awards in 1995 for "best actor".
In 1998 he was granted the Villa Kujoyama grant from AFAA (Association Française d'Action Artistique) and he stayed in Kyoto for about five months. He took classes with Michishige Udaka, Noh master from the Kongo family. In 1999 he received a 2nd grant from AFAA and studied at the Beijing Opera. In 2000 he created Monnaie de Singes in the Almagro Classical Theatre Festival (Spain), and also performed at the Festival d'Avignon, Almada Theatre Festival (Portugal) where it won the Great honour price (2000) and at the Theatre de la Ville, Paris (2001). He also took part in experimental performances and created several one-man-plays, such as "Quixote", free adaptation of Francois Rabelais's works and more. Didier Galas also taught at the ERAC (Ecole Régionale d'Acteurs de Cannes) and EPSAD (Ecole Professionnelle Supérieure d'Art Dramatique) in Lille. He has been an associated artist of the "TNB, Theatre National de Bretagne", Rennes, since January 2010 and is associated companion of "Le Bateau Feu, Scene Nationale, Dunkerque" since September 2007.