OTRO (or) weknowitsallornothing
Concept and direction by Enrique Diaz
Codirection by Cristina Moura
Performed by Coletivo Improviso
26 June at 14:30 and 27 June at 16:00
Shizuoka Arts Theatre
Duration: 75minutes
Two years have passed since their last visit to Japan – their return is much anticipated!
exposition
A thrilling form of theatre found by an artist from Rio.
Enrique Diaz, who amazed Shizuoka in 2008, is here for another challenge!
Enrique Diaz, who fascinated audiences at "Shizuoka Spring Arts Festival 2008" with Seagull-Play, is back with his newest work. Actors, dancers, musicians – Coletivo Improviso is a company of artists without borders, delivering a must-see performance!
Together with Diaz, choreographer Cristina Moura will be acting. In Seagull-Play she already amazed with original movements, but her talent surpasses choreography and she herself is a wonderful performer. This golden combination is here again – meet these frighteningly sharp, funny and mischievous guests from Rio.
Sponsored by: Embassy of Brazil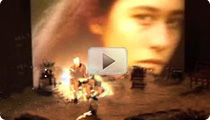 Enrique Diaz

Brazilian actor and director, born 1967 in Lima (Peru).
At the age of 16, he co-founded the Companhia dos Atores Rio de Janeiro. The group was spotted in the early 1990s with their show Bao A QuInspired (texts by Jorge Luis Borges). Companhia dos Atores bases its work on the actor's performance and, in Diaz' mind, the texts – whether written by the same group or by other playwrights – serve as a springboard to the adventure of interpretation. All parts of Enrique Diaz have the mark of a director who is also an actor and foregrounds the figure of the interpreter, and the shows are built around and from within the company.
Since 1988, Enrique Diaz has also directed the company Coletivo Improviso, which uses improvisation to put a new light on issues related to urbanity.
Discovered in a festival of street theatre in Rio, the fourteen dancers, actors, musicians, virtuoso improvisation produce performance based on given themes: a working basis which allows them to move from improvisation to composition.
Enrique Diaz has received numerous awards such as the Molière, Sharp, Shell and Mambembe. He led the Teatro Ziembinski from 1994 to 1997 and Area Cultural Sergio Porto in 1998.
Cristina Moura

Choreographer, Director, Performer. Born 1969 in Rio de Janeiro. She studied classic ballet and was a member of the Brazilian dance group "Endanca" for ten years. From 1996 to 2003 she lived in Europe, where she started making her own creations in 1998. Her Solo Performance Like an idiot, first performed in 2003, has been shown all over Europe, in America and Brazil for a total of more than 100 times. In 2003 she moved to Rio de Janeiro to create and live, and became a member of Coletivo Improviso in 2004. Recently her activities range from acting to dancing and she performs with Enrique Diaz. She choreographed the movements in Seagull-Play shown at the Spring Arts Festival Shizuoka 2008. She also collaborates with actress Mara Galliand and does solo performances among other activities.