4.48
Choreographed by Shang-Chi Sun
Scenic design by Anita Fuchs
Performed by Shangchi move
5 and 6 June at 13:30
BOX Theatre, Shizuoka Performing Arts Park
Duration: 60 minutes
Dance is still evolving!
exposition
Shang-Chi Sun, who keeps astonishing audiences in Europe!
A sequence of breathtaking dance born out of Sarah Kane's hotly much debated work!
Taiwan-born Shang-Chi Sun is a choreographer who has attracted a lot of attention in the European dance scene. 4.48 is inspired by British playwright Sarah Kane's final work 4.48 Psychosis (written 1999, one year prior to her suicide). The piece approaches the experience of psychological collapse. Body language is applied in the manifestation of concepts inherent to the text: the fear of psychological breakdown within varied mental states, medication-induced suffering, the desperate attempt to distinguish between reality and imagination.
A captivating virtuoso performance of smooth, soft, beautiful movement within the dense space of the Box Theatre.
Endorsed by:Taipei Economic and Cultural Representative Office (TECRO)
Support:The Goethe-Institut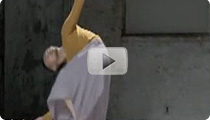 video: "Nüwa" by Shang-Chi Sun
Shang-Chi Sun

Shang-Chi Sun studied at the National Dance Academy of Taiwan. As a dancer at Nürnberg Dance Theatre and Cloud Gate Dance Theatre he worked with choreographers such as Stijn Celis, Hui Horta, Russell Maliphant, Lin Huwai-Min, Jo Stromgren and Daniela Kurz. He was invited to the Cloud Gate 2002 Choreographer Festival, Ballet Kiel, Nürnberg Dance Theatre, and Neues Museum Nürnberg. In 2005 he received the Bavarian theatre and the literature prize of the IHK-Kulturstifung. In 2007, during the 9th Taipei Arts Festival, his piece Walk Faster was nominated for the "Taipei Taishin Arts Award". In 2008 he took part in the 22nd international choreography competition in Hannover. At the 12th International Solo Tanz Festival in Stuttgart he won the "first choreography prize".
Shang-Chi Sun's works is invited every year to many international Performing Arts Festivals, like Paris, Lyon, Tel Aviv and Italy.
Anita Fuchs

Since 2004 Anita Fuchs has been a freelance set designer and scenic artist and has worked with established companies in New York und the New England Theatre Region, USA. She has also been working at educational institutions, like the Lincoln Theatre Centre, NYC, the Moscow Art Theatre School Institute for Advanced Theatre etc. At present she lives in Berlin, but keeps working internationally in Europe and the USA as well.
In 2002 she received the Addison Award (Reviewers of New England) for best set design in the Amadeus Production at the Huntington Theatre in Boston followed by stipend awards and nominations for best set design by the Irene Award Committee (New England Independent Theatre Reviewers).
www.anitafuchs.com