Ode maritime
Directed by Claude Régy
Written by Fernando Pessoa
Performed by Jean-Quentin Châtelain
11, 12 and 13 June at 18:30
Ellipse Theatre DAENDO, Shizuoka Performing Arts Park
Duration: 110 minutes
Stretch the limit of your senses! The last virtuoso performing for the first time in Japan!
exposition
The 86-year-old legend and jewel of the French theatre world is coming to Shizuoka!
Together with the great actor Jean-Quentin Châtelain they surpass the limits of art.
Claude Régy, still searching for even greater art, has devised in his long artistic life the heights of sublimation. His passion for his art has grown with each passing year. One of his specialties is the darkness of the stage. This director has made the boundaries of seeing and not seeing, the limits of perception itself, his trademark and ongoing challenge. As usual, also the eleven performances this March in Paris, Théâtre de la Ville, were sold out immediately and his piece is the most debated of this season.
This historical first performance of Régy in Japan, is supported by the great Swiss actor Jean-Quentin Châtelain, whose performance was highly admired by the audience at the Avignon Theatre Festival 2009.
Endorsed by: Culture France, Embassy of Portugal: The 150th Anniversary of the Peace, Friendship and Trade Treaty between Portugal and Japan (1860-2010)
Sponsored by: Institut franco-japonais de Tokyo, French Embassy, Swiss Embassy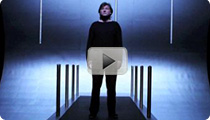 Claude Régy

Claude Régy, a French theatre director, was born in 1923. He never belonged to a company or theatre but kept directing mainly modern French and foreign writer's works, following his own ideas.
He started directing works of Garcia Lorca and Maeterlinck in 1952, until he got to know Marguerite Duras in the 1960`s (direction of English Lover in 1969 et al.) and also got involved with works of writers like Harold Pinter (1965), James Saunders (1966), Tom Stoppard (1967), Edward Bond, David Storey (1972), and German artists like Peter Handke (1973), Botho Strauss (1980) among others. With Paroles du Sage (Ecclesiastes) retranslated from the Bible by linguist Henri Meschonnic, he gave evidence to his untiring search for words and the voice. In 1999 he directed Somebody will come by the Norwegian artist Jon Fosse and 4.48 Psychosis by Sarah Kane with Isabelle Huppert (2002).
Since 1981 he has been teaching at the conservatoire of Paris, and has a big influence on many young directors and actors through his writings.
Jean-Quentin Châtelain

A Swiss actor. After graduation from Geneva Drama school and the Conservatoire of Strasbourg, he worked in France and Switzerland.
Not only has he played in many theatres – under direction of Joël Jouanneau, Valère Novarina, Jacques Lassalle et al. – he is also known for his roles in movies of Claire Denis and Andrzej Wajda. In Régy's pieces, he acted in The Terrible Voice of Satan (Gregory Motton, 1994), Knives in Hens (David Harrower, 2000), and Man Without Purpose (Arne Lygre, 2007). "Working with Régy is exhausting, so after a play I used to take a break from him for six years" Châtelain says, but now for the first time he is playing in two pieces of Régy in a row.