Security
Directed by Anthony Shrubsall
Written and performed by Zena Edwards
12 June at 16:00 and 13 June at 13:00
BOX Theatre, Shizuoka Performing Arts Park
Sociocritical one-woman show!
exposition
A masterpiece of performance-poetry in the capital London
A wonderful voice carries this human drama over the borders of culture and race.
Edwards' Security is a compelling mixture of music, poetry, theatre, and hip-hop; a hybrid, exciting one-woman show that feels bigger than itself, superbly executed and textually rich. Four people living in the alleyways of London appear on the cameras that are all over the capital today. Edwards inhabits each of these people completely, changing her facial expressions, her posture and her voice accordingly. In between the monologues, Edwards sings: she has a wonderful voice and these interludes serve to give texture and depth to the piece.
The camera-eye that surveys even the darkest alleyway surpasses all discrimination, and what stays is Edwards' strong, expressive face, her stage presence and her ability to breathe life into the most unexpected of characters.
Sponsored by: BRITISH COUNCIL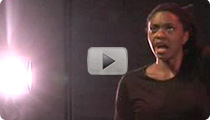 Anthony Shrubsall

Anthony Shrubsall is a freelance theatre director. Security was published both as poem and as a DVD in 2009.
A former Artistic Director at the Drayton Court Theatre, London, previous productions include: The Seagull, Mojo, The Lover, Landscape, and The Bullet. Other work includes the UK premiere of Once Upon Four Robbers by Nigerian playwright Femi Osofisan, The Government Inspector, Mountain Language, The Dumb Waiter, Shopping and F***ing, Rockaby, Huit Clos, Marat/Sade, and Blasted. He was previously Course Leader and Field Chair for Drama at the University of Northampton, England, and has written and published on Samuel Beckett, Theatre d'Complicite's Jos Houben, Harold Pinter and Vsevolod Meyerhold. A member of the Director's Guild of Great Britain and a Fellow of the Royal Society of Arts, Anthony is also a director of Double-Edge Gallery-Theatre Ltd and Managing Director of All the World Ltd, a new media based company.
Zena Edwards

Zena Edwards has been involved in performance for 13 years – as a singer / musician, poet and stage-manager after graduating from Middlesex University. She has been a performance poet since 1998, performing, facilitating workshops in poetry and creative writing since 2002.
Raised in Tottenham, North London, Edwards has become known as one of the 'new generation' of female performance poets to come out of London and was nominated for the Arts Foundation Award for performance poetry 2007. She has toured extensively round the UK, Europe and Africa supported by the British Council, 57 Productions and Apples and Snakes poetry organization. Edwards has been poet in residence at The Poetry Café in London as well as a mentor for The Arvon Foundation for poetry in performance. As project deviser, Edwards is now associate artist at The Albany in Deptford and received a new Live Literature Consortium Award to tour a cross art-form project called 'Conversations' in 2009 and 2010. 'Conversations' provides emerging artists and young talents a platform to collaborate with professional poets, musicians, theatre practitioners, dancers, visual artists and filmmakers.
Besides a wide range of performances she has done many recordings (including "25" Album, Positive Flow, and more) and Radio Commissions (like "Woven In Time", "Bloodlines" BBC 3's Africa 05 Season Talk Africa, Radio London Live, and more).
As poet, Zena accentuates the fusion of poetry and music by including traditional African-instrumentation – the raw magic of the Kalimba and Kora and new technology – to layer her mellifluous singing and spoken voice. Her work has been described as deep and sensuous, rhythmic and startling. Her poetry is not simply supported by music, but is music itself.