The ballad of the supreme King
Directed by Wang Xiaoying
Written by Pan Jun
Performed by The National Theatre of China
3 July at 12:30 and 4 July at 13:30
BOX Theatre, Shizuoka Performing Arts Park
Duration: 110 minutes
BeSeTo Theatre Festival Participant
A new China that elates the world!
exposition
The awesome life of Xiang Yu in all its beauty.
One man playing 13 roles?! Be amazed!
The tale of Xiang Yu, always well loved by enthusiasts of history, recreated in modern Chinese theatre. Opening with the ancient Chinese instrument Guqin, the play is full of Chinese atmosphere. In combination with a modern stage and artistic design it leaves the spectator with an impression of liveliness. The Chinese national theatre's fabulous actors take centre stage: around Xiang Yu, they are each playing 13 roles and give way to a variegated world. Those who have not had enough of historic television series, as well as those not further interested into history at all, will not be able to take their eyes of the stage after a first look!
What is the BeSeTo Theatre Festival?
The first two letters of Beijing, Seoul, and Tokyo have created the name of this theatre festival in cooperation with China, Korea and Japan. This year it is held for the 17th time in Tokyo, Tottori, and Shizuoka. 40 performances by ten companies, each in Japanese, Chinese and Korean versions, are on the programme.
BeSeTo Theatre Festival official web site
Sponsored by: Embassy of the People's Republic of China in Japan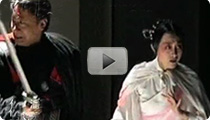 Wang Xiaoying

Director. Graduated from the Directing Department of the Central Academy of Drama in 1984, and completed his PhD study with Professor Xu Xiaozhong in 1995.
Wang Xiaoying is presently vice president of the National Theatre of China, vice chairman of China Theatre Association, and visiting professor and member of the academic committee at the Central Academy of Drama.
Pan Jun

Playwright. Graduated from the Department of Chinese Literature at Anhui University. He is a professional writer at the Literature research Centre at Anhui Provincial Literary and Art Circles, and visiting professor at Anhui University.