Empire of the Sun
Written and directed by Lee Youn Taek
Original text by Choi In Ho
Performed by Street Theatre Troupe
3 July at 19:30
Open Air Theatre UDO, Shizuoka Performing Arts Park
Duration:100 minutes
The historic epic performed by the "cultural guerrilla" of Korea!
exposition
The drama of a Korean giant in ancient Japan!
The fifty actors of the troupe take over the outdoor stage!
Lee Youn Taek and SPAC have been in a close relationship for several years. Robinson & Crusoe directed by him and shown this January in SPAC was highly acclaimed. In July he will be on stage with his new work!
This great theatre man has been working eagerly on the relationship between Japan and Korea, and this time he shows the story of a Korean immigrant in Japan around 400 AD. 50 actors come to Japan from Korea to show this big historical epic.
The theme of this story is "settlement rather than victory, coexistence rather than rule!" With uncommon fantasy, Youn Taek intervenes sharply into this black part of history.
Sponsored by: Korean Culture Centre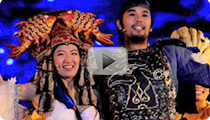 Lee Youn Taek

Poet, playwright and director, scenario writer, film director, an artist in all fields of life. The street-theatre troupe Koripe that he created has not only made it up to the most well-known company in Korea, but has also been given the nickname "Guerrilla of Korea". In 2004 he directed the National Korean Theatre Company, and he is teaching in Korean universities and all over the world his own unique acting method. At present he is constructing a theatre village in Milan, Korea, and continues to live and create together.