La Marie-Vison
Directed and Performed by Jo Taira
Original text by Shuji Terayama
Supervised by Henrix Morisaki
Assistant Director Totaro Wajima
3 July at 16:00
Shizuoka Arts Theatre
Duration: 110 minutes
R-15
:Restricted to children over 15 and adults
The man who breathes soul into puppets!
exposition
Immerse yourself!
The masterpiece of Shuji Terayama transformed into a puppet show by a young talent!
Jo Taira is the hope of Japan's puppet-theatre world. Since he started at the young age of 12, he has created many puppet plays and his activities are rich and diverse. His fans range from kids to adults. La Marie-Vison, which he shows this time, has an age limit of 15! Using Shuji Terayama's words (including the stage directions), Jo plays all the puppets on his own – slowly but certainly, they get expressive and alive under his hands. An unbelievable puppet show, finally in Shizuoka!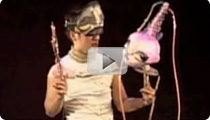 Jo Taira

Puppeteer.
Born in 1981 in Sapporo (Northern Japan: Hokkaido).
At the age of 12, Jo had his debut as one-puppeteer with Wildcat and the Acorns (by Kenji Miyazawa). Since then he has been participating in different kinds of performances such as Japanese Dance and traditional puppet theatre, Pantomime, modern dance and others. In Sapporo he won the prize for best puppeteer in 1994, followed by many other prizes, among others the prize for best direction in 1998. At the age of 19, Jo moved to Tokyo where he founded "Jo's group" and started his career as a professional in his unique style, doing everything himself, direction, design, construction, and performance. He has plays for adults, but also shows for babies and performs in and outside of Japan. At the same time Jo gives workshops and lectures at conferences. The play he directed in 2004 for adults only, La Marie-Vison won silver in the Japanese Puppet Theatre Competition, the first time ever for someone so young. Jo is creating one new play after another – most recently Tenshu Monogatari (Izumi Kyoka) Le Petit Prince (Saint-Exupéry) and more. His performances in Europe (Salome) and the US were also highly successful. "Independent of age, the puppet theatre is for every culture and everyone", says Jo.