Japan 2019 Official Program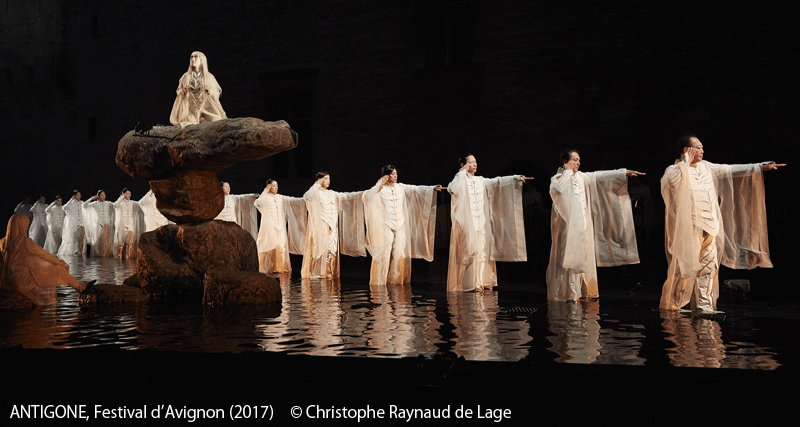 Introduction
Two years after the international sensation it caused as the opening program of the world's top arts festival, Avignon Festival, in 2017, ANTIGONE will set off on a New York tour!
 
SPAC is re-performing its most renowned work, ANTIGONE, as one of the official programs of the Japanese culture festival Japan 2019, which started in New York and Washington, D.C. in March 2019.
This program was originally performed at the Cour d'honneur du Palais des Papes as the opening program of the world's top arts festival, Avignon Festival, in 2017. Its production caused a great sensation among viewers and critics with its ingenious stage devices, including a floor covered with water and massive 30-meter-high projections of the performers' shadows on the wall of the Palais des Papes, as well as its story that contrasted the Japanese view of life and death with the non-binary worldview of the mythological Greek princess.
 
The program will be performed at the Park Avenue Armory in New York, a former military facility that is now used as a venue for live performances and installation art by the world's top artists. Utilizing the vast space and the high arched ceiling, we will make the Wade Thompson Drill Hall into a stage of almost the same size as that in the Cour d'honneur du Palais des Papes, reproducing the watercovered stage and shadow projections on the wall.
What will Antigone's worldview, which refuses to divide people into enemies and allies, offer to a U.S. audience which has long been exposed to social disruption? We hope you will get to see this new challenge that Miyagi and SPAC are about to take on.
Park Avenue Armory
http://armoryonpark.org/programs_events/detail/antigone
Japan 2019

Japan 2019, following on the successful Japonismes 2018 in France, aims to broaden understanding of and interest in Japanese culture in the United States through two programs: the Japan 2019 Official Program featuring a series of events co-organized or supported by the Japan Foundation, mainly in New York and Washington, D.C., and the Japan 2019 Associated Program, featuring affiliated events organized by public and private entities to introduce Japanese culture and promote exchange between Japan and the U.S.
Japan 2019
https://www.jpf.go.jp/j/about/area/japan2019/
Period: From March to December 2019
 
 
Also, SPAC's Mahabharata – Nalacharitam was a great success at Japonismes 2018 as one of the official programs, selling out all 1,000 seats for all six performances.
Japonismes 2018 "Mahabharata – Nalacharitam"
https://japonismes.org/en/officialprograms/宮城聰演出-『マハーバーラタ-~ナラ王の冒険~』
Synopsis
The scene is in Thebes of ancient Greece. The previous king Oedipus is expelled from the country after discovering the secret of his birth. Jocasta, who is Oedipus' wife and mother, kills herself. Their sons, Eteocles and Polynices, fight for the throne and Polynices is expelled to Argos. Later, Polynices attacks Thebes with the army of Argos. There, Polynices and Eteocles engage in single combat. Under the curse of Oedipus, both brothers die by each other's sword. Jocasta's younger brother, Creon, ascends to the throne of Thebes. Creon decides to respectfully bury Eteocles who protected Thebes, while decreeing that Polynices' body is not to be buried in order to let wild birds feast on it, on the pain of death. However, Oedipus' daughter Antigone defies the order, despite admonitions from her sister Ismene, and decides to attempt to secure a respectable burial for her brother Polynices.
Information
| | |
| --- | --- |
|        9/25 Wed | 19:30 |
|        9/26 Thu | 19:30 |
|        9/27 Fri | 20:00 |
|        9/28 Sat | 20:00 |
|        9/29 Sun | 14:00 |
|        9/30 Mon | 19:30 |
|        10/3 Thu | 19:30 |
|        10/4 Fri | 20:00 |
|        10/5 Sat | 20:00 |
|        10/6 Sun | 14:00 / 20:00 |
 
     Park Avenue Armory
 
     Duration: 105 minutes
     Language: In Japanese with English subtitles
Staff / Cast
Conceived and directed by MIYAGI Satoshi
Written by Sophocles
Translated by YAGINUMA Shigetake
Composed by TANAKAWA Hiroko
Space design: KIZ Junpei
Costume design: TAKAHASHI Kayo
Lighting design: OSAKO Koji
Hair and makeup: KAJITA Kyoko
 
Performed by Micari, HONDA Maki, AKAMATSU Naomi, ABE Kazunori, ISHII Moemi, OUCHI Yoneji, OHTAKA Kouichi, KATO Yukio, KIJIMA Tsuyoshi, KONAGAYA Katsuhiko, SAKAKIBARA Yuumi, SAKURAUCHI Yu, SATO Yuzu, SUZUKI Mariko, DAIDOMUMON Yuya, TAKEISHI Morimasa, TATENO Momoyo, TERAUCHI Ayako, NAGAI Kenji, NOGUCHI Shunsuke, FUSE Asuka, MISHIMA Keita, MIYAGISHIMA Haruka, MORIYAMA Fuyuko, YAMAMOTO Miyuki, YOSHIUE Soichiro, YOSHIMI Ryo, WAKANA Daisuke, WATANABE Takahiko
 
 
Organized by The Japan Foundation, SPAC–Shizuoka Performing Arts Center, Park Avenue Armory
Supported by Citi, Bloomberg Philanthropies, ANA
 



MIYAGI Satoshi
General Artistic Director of Shizuoka Performing Arts Center (SPAC)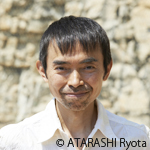 Born in Tokyo in 1959, after studying aesthetics at Tokyo University under ODASHIMA Yushi, WATANABE Moriaki and HIDAKA Hachiro, he founded the KU NA' UKA theater company in 1990 and soon began staging plays overseas as well as in Japan. As a result, MIYAGI's work — in which he often fuses contemporary textual interpretations with physical techniques and patterns of Asian theatre — has long been acclaimed both at home and far abroad. Indeed, in 2004 he received the 3rd Asahi Performing Arts Award, and the next year the 2nd Asahi Beer Art Award.
Since taking up his position with SPAC in April 2007, MIYAGI has staged many of his own works — including "Medea", the Hindu epic "Mahabharata", and "Peer Gynt" — and has invited artists from abroad to present pieces casting a keen eye on the modern world as they see it. In line with his aim to make theatre "a window to the world," he has also started a new SPAC-based project aimed at the youth of Shizuoka.
In 2014, MIYAGI was invited to the Festival d'Avignon, where he received excellent reviews for his open-air version of the Hindu epic "Mahabharata" staged in La Carrière de Boulbon. Following that landmark achievement, the festival extended the honor of inviting MIYAGI to present a Buddhist interpretation he created of the ancient Greek mythological tragedy "Antigone" as its super-prestigious opening program for 2017. On that occasion, which was the first time an Asian play had ever been selected to launch the festival, MIYAGI's exalted "stage" was the open-air Cour d'honneur du Palais des papes (the Honor Court of the Palace of Popes). By the play's end, those towering medieval stone walls were ringing out with long and splendid standing ovations welcoming the work's director and creator along with SPAC's actors and staff — while more than 60 European media all gave great reviews.
In 2018, he received the 68th Minister of Education, Culture, Sports, Science and Technology's Art Encouragement Prize of Drama. Also he recieved "Chevalier de l'Ordre des Arts et des Lettres" from the Ministry of Culture of France in 2018.
 
Festival d'Avignon 2017
https://www.festival-avignon.com/en/shows/2017/antigone
 
Records of ANTIGONE at Festival d'Avignon 2017