Shizuoka Performing Arts Park is the center of activity of SPAC which lies on the northern foot of the Nihondaira plateau with an area four times that of Tokyo Dome. This park of deep green is dotted with the headquarters, open air theatre "Udo", ellipse theatre "Daendo", as well as buildings for rehearsal, training exchanges and accommodations.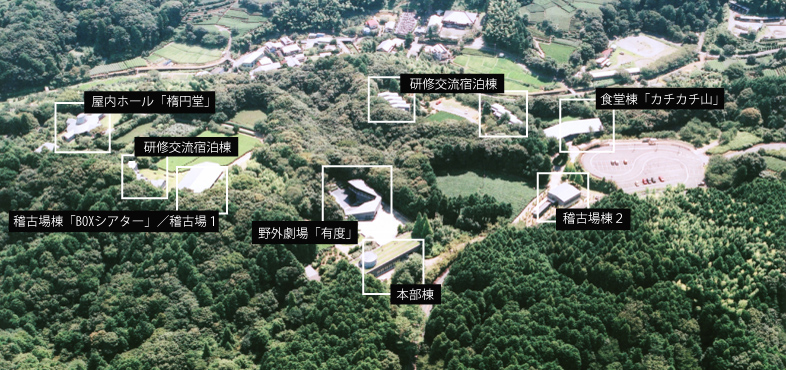 Open Air Theatre UDO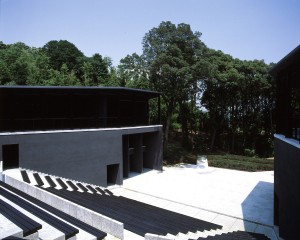 What expresses our overall concept of coexisting with nature the best here at Performing Arts Park is Open Air Theatre. The "Wakakusa stone" slabs harvested from Izu Peninsula covering the ground in front of the subdued black outer walls gives Udo it's deep presence. For actors to enter and exit, behind the stage itself, we have our very own hanamichi; lined with tea bushes, we call it our "cha michi". [Designed by ISOZAKI Arata]
Seating capacity (fixed) 400n [Wheelchair seats 2]/Dressing rooms 3/Open width 13.8m/Stage depth 16.71m/Dimmer circuits (30A) 263
Ellipse Theatre DAENDO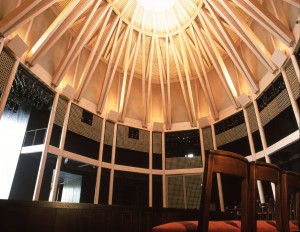 This elliptical space pitch black stage and white wood scaffolding, takes on an almost mystic feeling when light shines from the dome in the ceiling, sharpening the attention of its audience. The corridor on the upper floor is laden with tatami mats while the lounge provides an excellent view directly facing Mt. Fuji. The contrastive concept of this space is the bright, open upper level coexisting with the more cohesive and concentrated feeling given by the stage and seating in the lower level. [Designed by ISOZAKI Arata]
Seating capacity (movable) 110/Open width 15.70m/Stage depth (Thrust stage)  7.23m/Lifts 2/Dimmer circuits (30A) 140
BOX Theatre
Box Theatre is a simple black box shaped theatre inside the rehearsal building. The stage and seating can be arranged at will for each and every performance where the unity with the audience can be enjoyed to one's heart's content. Attached, is Rehearsal Room One, which serves, making best use of its comforting wood design, as a space used for SPAC actors' daily training.
Open width 17.2m/Stage depth 13.43m/Grid height 4.6m/Cat walks 4/Lighting bars 4/Bars 8/Dimmer circuits (20A) 52
Other Training Exchange Lodge

These are the accommodations where people from all spectrums of the performing arts who visit SPAC from home and abroad stay to strengthen relations through production of pieces, presentations, research and discussions.

Training room 2

 

Cafe "KACHI KACHI YAMA"

Next to the security room by the entrance of the park is our cafe KACHI KACHI YAMA. It is used as the cafeteria for cast and crew during production and used as a resting place for the audience during performances.

Main Building

This building houses the office of the Art Agency, the Artistic director's office, meeting rooms and archives.