A slapstick comedy about silly people who are too occupied with themselves!
 
▼Stage Photos(2017)(c)M.HIRAO

Argan believes he is sick and cannot live without the help of medicine. He tries to marry his daughter to a physician, but she already has a boyfriend. The people around him try everything they can to wake him up.
A popular adaptation of the famous French comedy Le malade imaginaire, as re-imagined by director Seiji Nozoe with his ambition to make the most laugh-out-loud-funny production in the history of SPAC!
This will be no ordinary comedy!
Embellished and directed by NOZOE Seiji
Original text by Molière
SPAC 2020–2021 programs Promotional videos
 

Cast

Performed by ABE Kazunori, ISHII Moemi, OOTAKA Kouichi, KATO Yukio, SAKAKIBARA Yuumi, TOMIKAWA Kazuhito, HONDA Maki, MAKIYAMA Yudai

ABE
Kazunori

ISHII
Moemi

OOTAKA
Kouichi

KATO
Yukio

SAKAKIBARA
Yuumi

TOMIKAWA
Kazuhito

HONDA
Maki

MAKIYAMA
Yudai



 

---

 
Understudy:
OISHI Nobuhiro, KAGEYAMA Hisae, KIUCHI Kotoko, KONAGAYA Katsuhiko, SEKINE Junko, MIYAGISHIMA Haruka
 

Information

Saturday 23 January 2021 at 2:00pm
Sunday 24 January 2021 at 2:00pm
At Shizuoka City Culture Hall
Japanese and English subtitles will be available.
For more information, please click here: [EN]

Duration: 120minutes(Without intermission)
●The seats will be arranged with appropriate distances between them.
※Recommended for ages 7 and up
 

《COVID-19 Prevention Measures》
Requests to All Visitors

In addition to the following, please be sure to read [Important] Measures for Preventing the Spread of COVID-19 and Requests to All Visitors as well.

●Please check your physical condition before coming to the theater.
(If you have a fever or other symptoms, please refrain from visiting the theater.)
●Please be sure to wear a mask when you visit the theater.
●Your body temperature will be taken at the theater entrance using thermography or a non-contact thermometer. If your temperature exceeds 37.5 degrees Celsius, you will be asked to refrain from entering the theater.
●Please fill out and submit the visitor card.
(In the event of an outbreak of infection, we may provide the submitted information to public institutions such as health centers.)

Access

Shizuoka City Culture Hall
2-90 Sunpucho, Aoi-ku Shizuoka City, Shizuoka, Japan
By Train:
● Approx. 25 minutes walk from North exit of JR Shizuoka Station.
● 10 minutes walk from Shinshizuoka Sta. or Hiyoshicho Sta. of Shizutetsu line.
By Car: Approx. 25 minutes from Shizuoka I.C. on the Tomei Expressway.
 

Performances for junior and high-school students

SPAC believes that theaters are a window to the world, and that is why it invites junior high school and high school students in Shizuoka Prefecture to its free-of-charge programs. Due to the reconstruction of the Shizuoka Convention and Arts Center (GRANSHIP), this year's programs will be touring multiple cultural facilities in Shizuoka.
*No ordinary tickets will be available for these programs.

Ticket Price

4,200 yen (for regular adult)

SPAC Membership Discount
3,500 yen (for regular adult)

Pair Discount
3,700 yen per person

Group Discount
3,300 yen per person for group of 3 or more

Senior Discount
3,500 yen for seniors over 60
*Please present ID at door

Student Discount
2,000 yen (University)
1,000 yen (High School and under)
*Please present school ID at door

Handicap Discount
2,900 yen (for those who possess handicap passbook)

*Cannot use more than one discount per purchase.
*Please inform use of discount when making reservation.

How to Purchase

Prior Reservation for Membership begins: 6 December at 10:00
Advance Tickets Sale begins: 13 December at 10:00
 
●Online reservations
– Please enter from the language button "English".
– Payment is possible with the following credit cards: DC, UFJ, NICOS, VISA, and Master. Tickets purchased through this website can be received at the venue from one hour prior to each performance.
 
●Phone reservations
from 10:00-18:00 at SPAC ticket center
TEL. +81-(0)54-202-3399
 
Day Ticket
Available at each venue for leftover seats, from one hour prior to each performance.
*Please confirm ticket availability on the day by phone or by visiting Twitter (@_SPAC_)

*Ticket reservations will finish at 18:00 on the day before the performance.

Please refrain from taking infants to the ordinary seats.
 

Staff

Stage design: FUKASAWA Eri
Lighting design: OSAKO Koji
Costume design: KOMAI Yumiko
Songs: Nozoère
Choreography: TANIGUCHI Ikuko

Stage manager: HARAIKAWA Yukio
Assistant director: NAKANO Masaki
Stage: YAMAZAKI Kaoru, SUGIYAMA Yuri, MORIBE Rio
Art work: SATO Yosuke
Lighting operation: KOBAYAKAWA Hiroya
Lighting: HANAWA Yuuki, MIZUNO Hikaru, TAKEZAWA Akira
Sound: HARADA Shinobu, OTSUKI Minori
Wardrobe: SATO Rise, MAKINO Saho
Technical director: MURAMATSU Atsushi

Production: YONEYAMA Junichi, YUKIOKA Jun, KITAHORI Ruka, KAWAGUCHI Mio

English subtitle traslation: Steve CORBEIL

Flyer design: ABE Taichi (TAICHI ABE DESIGN INC.)

Co-hosted by Shizuoka City Culture Hall (for the performances in Shizuoka City)

Supported by the Agency for Cultural Affairs, Government of Japan through the Japan Arts Council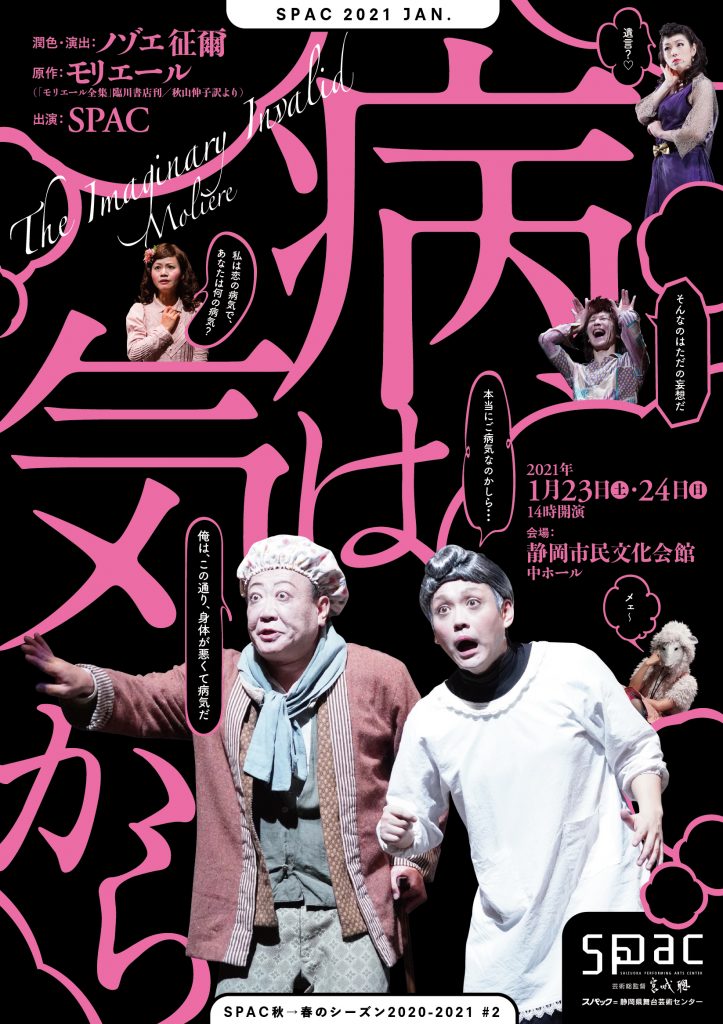 【Profile】
NOSOE Seiji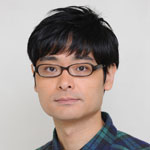 Playwright, director, and actor. Leader of the theater company Haegiwa. Born in 1975. Started Haegiwa in 1999 while studying at Aoyama Gakuin University. Since then, he has written and directed all of the company's plays. His works are known for ingenious stage production approaches drawing on his unique perspectives and humor, which bring out the best of the actors and spaces. In 2012, he won the 56th Kishida Prize for Drama for his play "XX Toaru Fūkei". He has also appeared as an actor in many movies and TV dramas. In 2004, he wrote and directed "Ichiman-nin-no Gold Theater 2016 Kin-iro Kōkyō-kyoku: Watashi-no-Yume, Kimi-no-Yume (literal translation: Golden Symphony: My Dream, Your Dream)" at Saitama Super Arena with 1,600 senior citizens participating as actors. His recent directing credits include the music play "Tom and Jerry: Yume-yo Mou-ichido", the Tokyo Festival 2019 outdoor program I Am a Cat", PARCO Production's "Boku no Ana, Kare no Ana", and "Peter & the Starcatcher" (to be performed at the New National Theatre, Tokyo in December).