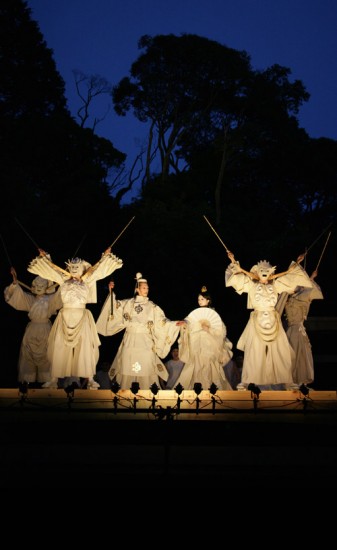 MIYAGI Satoshi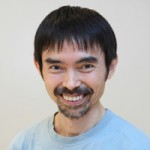 Born in Tokyo in 1959. Director. General Artistic Director of SPAC – Shizuoka Performing Arts Center. Studied aesthetics from ODASHIMA Yushi, WATANABE Moriaki, and HIDAKA Hachiro at Tokyo University, and founded the new theatre company KU NA'UKA in 1990. Being active in the international industry, his directing, which fuses contemporary textual interpretations with physical techniques and patterns of Asian theatre, receives high acclaims both domestically and abroad. He was appointed as the General Artistic Director of SPAC in April of 2007. Along with presentations of his own works, he invites pieces that sharply cut away at modern society from regions all over the world. Furthermore, he has started a new project aimed at the youth of Shizuoka, putting efforts into presenting theatre as "a window to the world". He is best known for such pieces as Medea, Mahabharata, Peer Gynt etc. In 2004 he received The 3rd Asahi Performing Arts Award. In 2005 he received The 2nd Asahi Beer Art Award.
→The General Artistic Director of SPAC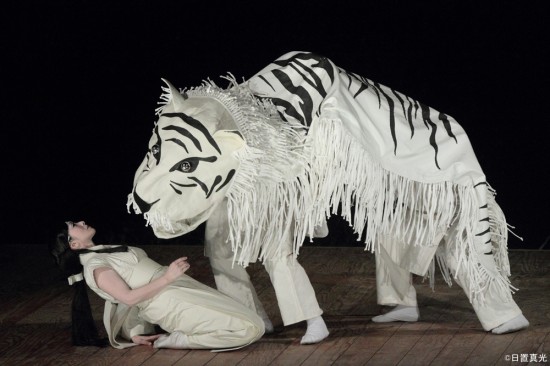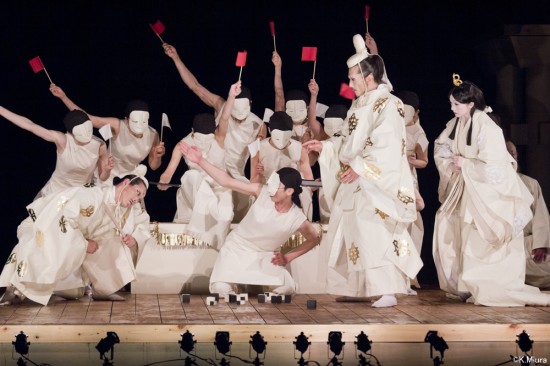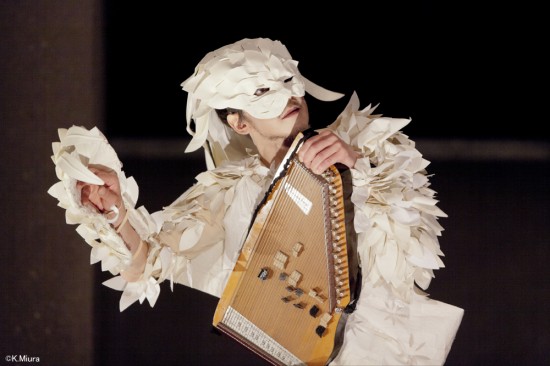 The Festival Opener
MIYAGI Satoshi's festal musical!
Dance amongst the gods!
Princess Damayanti's continuing affection for husband is sure to impress. A pure and mighty story extracted from the most popular epic tale of ancient India, "Mahabharata" has been sublimated by MIYAGI Satoshi into a festal musical bound like a gorgeous picture scroll. You will hear the sound of earth-moving percussion and see performers float like butterflies. May Gods blessings be showered over all beings and creatures!
Standing ovation in France!
The world shaking…
MIYAGI Satoshi and SPAC's masterpiece!
This spectacle opened Claude Lévi-Strauss theatre in Musée du quai Branly in 2006. It became a sort of a legend by filling it to the rafters every day. SPAC made a long awaited return performance there, while handling a tour around France. In each place, they received high praise. This one and only staging by MIYAGI, who keeps close relations with Asian theatres, is gradually taking more and more people all over the world by storm with its more than Japonisme appeal. TANAKAWA Hiroko's music direction which has an essential role in MIYAGI's works has become increasingly active and sophisticated.
Synopsis
A princess whose beauty drove the gods crazy, Damayanti chose King Nala, a mortal, as her spouse. A devil Kali, out of envy, put a curse on Nala, who then gambled heavily with his brother and lost his kingdom. Damayanti chose to accompany Nala, who drifted into the wild, but Nala left her carrying only a fragment of her gown while she was sleeping. Damayanti wandered through the forest encountering a number of dangers. She finally managed to reach her father's realm against all odds. Nala also approached this realm after a long wrenching time. Will this couple be able to reunite and gain back the kingdom…?
Information

27 April at 17:30
3 May at 17:30
6 May at 17:30
At Open Air Theatre UDO, Shizuoka Performing Arts Park
Duration: 110 minutes
In Japanese with English subtitles
Staff/Cast
Cast
Narrator : ABE Kazunori
Damayanti : Micari
Nala : OHTAKA Kouichi
Varshuneya : OUCHI Yoneji
Kesini : AKAMATSU Naomi
Pushkar : OISHI Nobuhiro
Kali : YOKOYAMA Hisashi
Hunter / Bhima : NAKANO Masaki
Empress dowager : HONDA Maki
Sunanda : ISHII Moemi
Rituparna : DAIDOMUMON Yuya
Sudeva : MAKINO Ryuji
Indra : TATENO Momoyo (M) / SAKAKIBARAYuumi (S)
Agni : HONDA Maki (M) / SAKURAUCHI Yu (S)
Varuna : SUZUKI Mari(M) / YAMAMOTO Miyuki (S)
Yama : KATAOKA Sachiko (M) / KIUCHI Kotoko (S)
Karkotaka : SAKAKIBARA Yuumi (M) / SUZUKI Mari (S)
Musiciens : TERAUCHI Ayako, ISHII Moemi, KATO Yukio , SAKURAUCHI Yu, SATO Yuzu,
NAKAMURA Yuki, MORIYAMA Fuyuko, YAMAMOTO Miuki, YOSHIMI Ryo, WAKAMIYA Yoichi
(M=Mover, S=Speaker)
Staff
Directed by MIYAGI Satoshi
Text by KUBOTA Azumi
Music by TANAKAWA Hiroko
Landscape design : KIZ Junpei
Lighting design : OSAKO Koji
Costume design : TAKAHASHI Kayo
Prop design : FUKASAWA Eri
Sound : MIZUMURA Ryo, KATO Hisanao
Stage manager : YAMADA Takahiro
Stage : SATO Yosuke, KAMIYA Toshiki
Lighting operation : KOBAYAKAWA Hiroya, YAMAMORI Eiji (KAAT)
Sound operation : YAMASAKI Tomomi
Wardrobe : OOKA Mai
Prop assistant : SATO Yosuke, MIWA Kaori
Hair and makeup : KAJITA Kyoko
Subtitles (Translation) : Steve CORBEI
Subtitles (Operation) : NISHIO Sachiko
Assistant director : NAKANO Masaki
Technical cooperation : IWASAKI Kenichiro
Bandmistress : TERAUCHI Ayako
Production : OISHI Takako, UCHIDA Toshiko
Under the auspices of Embassy of India
Produced by SPAC-Shizuoka Performing Arts Center