▼Stage Photos(2019)(c)K.Miura
An otherworldly musical drama co-directed by French director Jean Lambert-wild and Swiss director Lorenzo Malaguerra and performed by SPAC's "eerie" actors!
After his death, Yotaro wanders into a strange world where he finds himself constantly startled by yōkai monsters and spirits coming his way one after another.
Performed for the first time in 2019, the popular show that captivated the audience with its comical and poetic world makes its comeback in Kakegawa City and, Shizuoka City this autumn!
Directed by Jean LAMBERT-WILD, Lorenzo MALAGUERRA
Script, adaptation, and dramaturgy by Jean LAMBERT-WILD, HIRANO Akihito, All of casts and workshop participants
Translated by HIRANO Akihito
Music by Jean-Luc THERMINARIAS, TANAKAWA Hiroko
SPAC 2020–2021 programs Promotional videos
 

Cast

Performed by OUCHI Tomomi◇, OUCHI Yoneji, KIUCHI Kotoko, KIGAWA Sei◇, KIJIMA Tsuyoshi◆, KONAGAYA Katsuhiko◆, HONDA Maki◇, MISHIMA Keita, MIYAGISHIMA Haruka, MORIYAMA Fuyuko◆, YAMAZAKI Koji◇, YOSHIUE Soichiro, WATANABE Takahik

*Double casting
◇ … until 7 November (Performances for junior and high-school students)
◆ … from 12 November

OUCHI
Tomomi◇

OUCHI
Yoneji◆

KIUCHI
Kotoko

KIGAWA
Sei◇

KIJIMA
Tsuyoshi◆

KONAGAYA
Katsuhiko◆

HONDA
Maki◇

MISHIMA
Keita

MIYAGISHIMA
Haruka

MORIYAMA
Fuyuko◆

YAMAZAKI
Koji◇

YOSHIUE
Soichiro

WATANABE
Takahiko

Information

Saturday 14 November 2020 at 2:00pm
At Kakegawa Lifelong Learning Center

Saturday 19 December 2020 at 2:00pm
Sunday 20 December 2020 at 2:00pm
At Shizuoka City Culture Hall

Japanese, English, and Portuguese subtitles will be available for the performances at the Shizuoka City Culture Hall.
For more information, please click here: [EN] [PT]

Duration: 80minutes(Without intermission)
●The number of seats for each peformance should be less than 50% of the capacity of the venue.
※Recommended for ages 7 and up
 

Live Streaming
2020 Saturday 5 December 2020 at 7:00pm
on YouTube Channel "SPAC"

 

《COVID-19 Prevention Measures》
Requests to All Visitors

In addition to the following, please be sure to read [Important] Measures for Preventing the Spread of COVID-19 and Requests to All Visitors as well.

●Please check your physical condition before coming to the theater.
(If you have a fever or other symptoms, please refrain from visiting the theater.)
●Please be sure to wear a mask when you visit the theater.
●Your body temperature will be taken at the theater entrance using thermography or a non-contact thermometer. If your temperature exceeds 37.5 degrees Celsius, you will be asked to refrain from entering the theater.
●Please fill out and submit the visitor card.
(In the event of an outbreak of infection, we may provide the submitted information to public institutions such as health centers.)

Access

Kakegawa Lifelong Learning Center
17-4 Goshobara, Kakegawacity, Shizuoka, Japan
By Train: Approx. 20 minutes walk from JR Kakegawa Station
By Car:
● Approx. 2.5Km north from Kakegawa Interchange (I.C.) on the Tomei Expressway.
● Approx. 1.6Km south from Saigo I.C. on the Kakegawa Bypass.

Shizuoka City Culture Hall
2-90 Sunpucho, Aoi-ku Shizuoka City, Shizuoka, Japan
By Train:
● Approx. 25 minutes walk from North exit of JR Shizuoka Station.
● 10 minutes walk from Shinshizuoka Sta. or Hiyoshicho Sta. of Shizutetsu line.
By Car: Approx. 25 minutes from Shizuoka I.C. on the Tomei Expressway.
 

Performances for junior and high-school students

SPAC believes that theaters are a window to the world, and that is why it invites junior high school and high school students in Shizuoka Prefecture to its free-of-charge programs. Due to the reconstruction of the Shizuoka Convention and Arts Center (GRANSHIP), this year's programs will be touring multiple cultural facilities in Shizuoka.
*No ordinary tickets will be available for these programs.
 –>

Ticket Price

4,200 yen (for regular adult)

SPAC Membership Discount
3,500 yen (for regular adult)

Pair Discount
3,700 yen per person

Group Discount
3,300 yen per person for group of 3 or more

Senior Discount
3,500 yen for seniors over 60
*Please present ID at door

Student Discount
2,000 yen (University)
1,000 yen (High School and under)
*Please present school ID at door

Handicap Discount
2,900 yen (for those who possess handicap passbook)
 

Family Discount
3,300 yen per person with one child under high school

 
*Cannot use more than one discount per purchase.
*Please inform use of discount when making reservation.

How to Purchase

Prior Reservation for Membership begins: 13 September at 10:00
Advance Tickets Sale begins: 20 September at 10:00
 
●Online reservations
– Please enter from the language button "English".
– Payment is possible with the following credit cards: DC, UFJ, NICOS, VISA, and Master. Tickets purchased through this website can be received at the venue from one hour prior to each performance.
 
●Phone reservations
from 10:00-18:00 at SPAC ticket center
TEL. +81-(0)54-202-3399
 
Day Ticket
Available at each venue for leftover seats, from one hour prior to each performance.
*Please confirm ticket availability on the day by phone or by visiting Twitter (@_SPAC_)

*Ticket reservations will finish at 18:00 on the day before the performance.

Please refrain from taking infants to the ordinary seats.
 

Staff

Stage design: Jean LAMBERT-WILD
Costume design: KOMAI Yumiko
Lighting design: Renaud LAGIER

Stage manager: OGAWA Tetsurou
Assistant director: TAKEISHI Morimasa
Stage: FURUYA Kazumi, MORIBE Rio, TSUCHIYA Katsunori
Lighting arrangement and operation: KOBAYAKAWA Hiroya
Operation of moving light: HANAWA Yuuki
Sound: HAYASHI Tetsuya, TAKESHIMA Chisato
Art work: YOSHIDA Yuna
Wardrobe: SEI Chigusa,YAMAMOTO Kana
Technical director: MURAMATSU Atsushi

Interpretation: HIRANO Akihito
English subtitle traslation:Andrew EGLINTON and Mika EGLINTON
Portuguese subtitle traslation:Alice HORIUCHI

Flyer design: ABE Taichi (TAICHI ABE DESIGN INC.)

Produced by SPAC – Shizuoka Performing Arts Center
Co-production: Théâtre de l'Union – Centre Dramatique National

Co-hosted by Shizuoka City Culture Hall (for the performances in Shizuoka City)

Supported by the Agency for Cultural Affairs, Government of Japan through the Japan Arts Council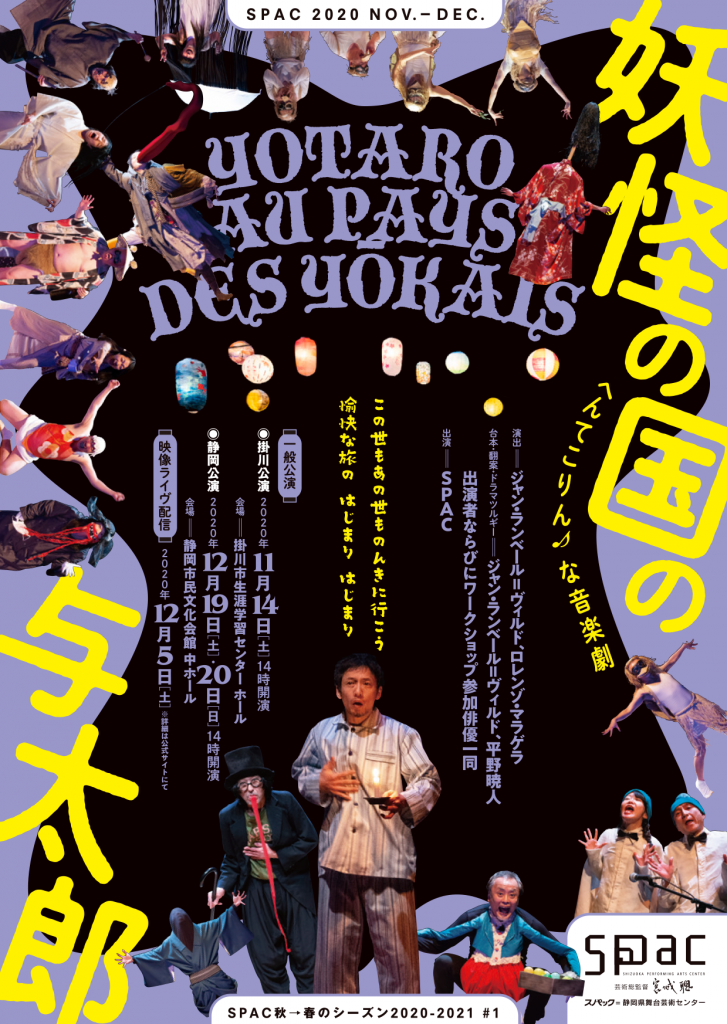 【Profile】
Jean LAMBERT-WILD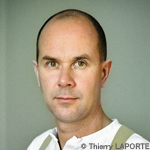 Lambert-wild was born in 1972 in Réunion, a French island territory located in the Indian Ocean off the coast of South India. He is a playwright, director, and actor. Lambert-wild has cultivated his poetic power of imagination through the unique environment of his upbringing, and his magical knack for direction has become highly esteemed. His young age belies his long and impressive history of supervising a wide array of national theater centers across France. Some of his most representative works include a fantasized autobiographical epic titled "The Hypogeum (The Underground Tomb)," "The Molting," a piece he created alongside indigenous peoples of Brazil, an adaptation of "Waiting for Godot," and more. In 2014, Lambert-wild received the 'Chevalier' (knight) medallion prize from the Ordre des Arts et des Lettres. To date, SPAC has presented three programs directed by him: "The Goat of Monsieur Seguin" (2011), "Splendor and Lassitude of Captain Iwatani Izumi" (2014), and "Richard III – Loyalty binds me"(2018).
Lorenzo MALAGUERRA
Malaguerra is a director and actor. After graduating from the University of Geneva with a master's degree in geography, he studied acting at the École Supérieure d'Art Dramatique de Genève (ESAD). In 2001, he founded Le Troisième Spectacle, a theatre company that has produced around twenty pieces. In 2009, he became the artistic director of the Théâtre du Crochetan in Monthey, Switzerland. Malaguerra has been working regularly with Jean Lambert-wild since 2012. His co-direction credits include "Waiting for Godot," "Richard III – Loyalty binds me," "Roberto Zucco" by Bernard-Marie Koltès, which was performed at the National Theatre Company of Korea (NTCK, Seoul) and an adaptation of Molière's "Dom Juan or The Feast with the Statue."